VietNamNet Bridge – Celebrities who were born in the 90s are now not inferior to their senior in the competition to renew their beauty.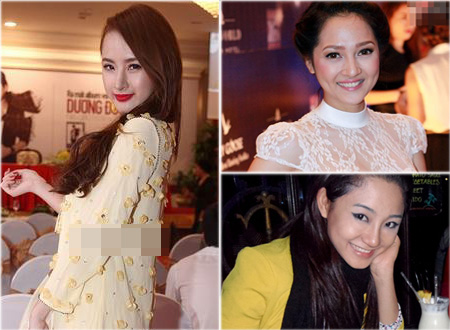 From the left: Angela Phuong Trinh, Bao Anh and Tra My.
Having cosmetic surgery to look better is nothing wrong, but abuse of plastic surgery is not recommended. Many local and international stars had to "cry" for their ugly faces after plastic surgery. Notably, teen stars also dabble at their seniors to take breast augmentation, nose and chin surgery.
Born in 1994, Phuong Trinh is not yet 18 years old at this time to have plastic surgery, but she did not hesitate to publicize her "new nose."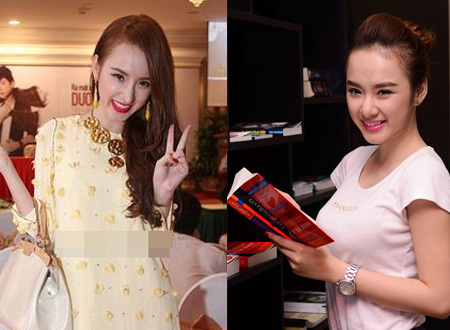 Angela Phuong Trinh.
A couple of days ago, after a long absence, Angela Phuong Trinh suddenly appeared at an event in HCM City, in a strange appearance. She frankly disclosed that she had just "upgraded" her nose to make it more beautiful.
As some people said that she was too young to have cosmetic surgery, Phuong Trinh immediately justified that she will be 18 in two months and she was consulted by doctors.
Previously, the teen actress and model was suspected to have breast augmentation but she denied it.
The abuse of cosmetic surgery at the young age can lead to unpredictable consequences but the teen model did not hesitate to express her clear viewpoint on this matter: "Celebrities are also human. Not everyone is pretty perfect. Having plastic surgery to spruce up is nothing bad, as long as you do not overdo it. And it is important to not hide if you use plastic surgery."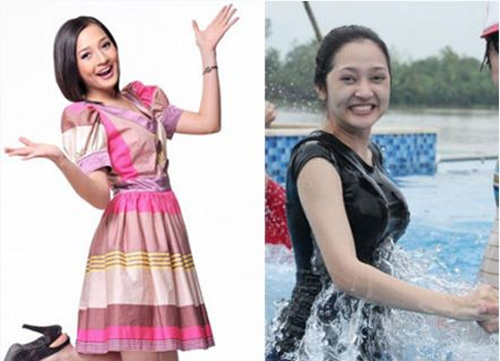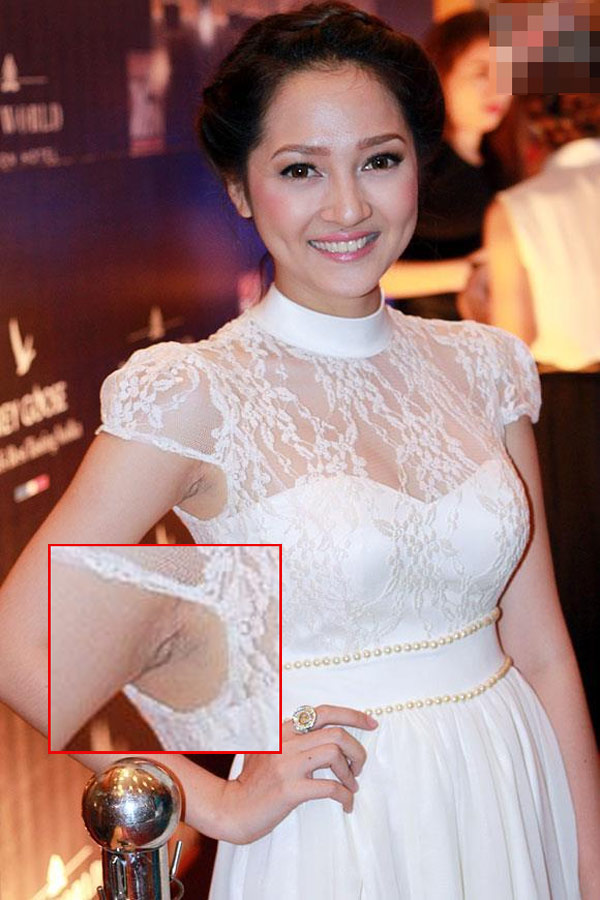 Singer Bao Anh.
Bao Anh, a beautiful contestant of The Voice is also suspected to have breast augmentation surgery. In just a short time, her bust was suddenly bigger. This is clearly seen in photos of the past and at present.
The suspicion is enhanced when the teen singer accidentally revealed her wrinkled skin under the arms.
The runner-up of the Vietnam's Next Top Model 2011 impresses the audience with her lovely and cute face. She is called "Miss teddy bear." But recently, the girl born in 1992 surprised her fans when she appeared in the Top Model Worldwide with a "strange" face.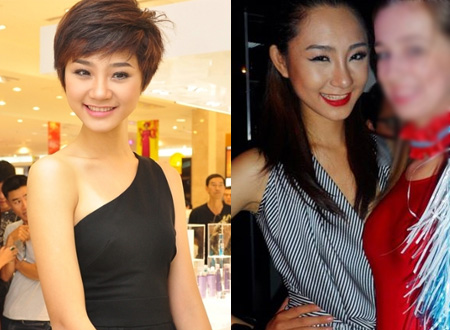 Model Tra My.
The girl no longer has natural and lovely beauty. Her nose, her eyes and her cheeks now look differently.
Tra My has joined the entertainment industry not long ago but the young model has quickly caught up with her seniors in the race to refurbish her beauty. And it is easy to see that "Miss Teddy Bear" has been mired in the "trail" of models Hoang Yen and Ngoc Quyen, actress Ngoc Diep...  when the more they take plastic surgery, the uglier they are.
Quynh Chi is known as a hotgirl, a TV host and an actress. She was born in 1990. With fresh face, bright eyes and a beautiful appearance, she entered the top 20 of Miss Teen 2009 pageant and was quite successful in the acting career.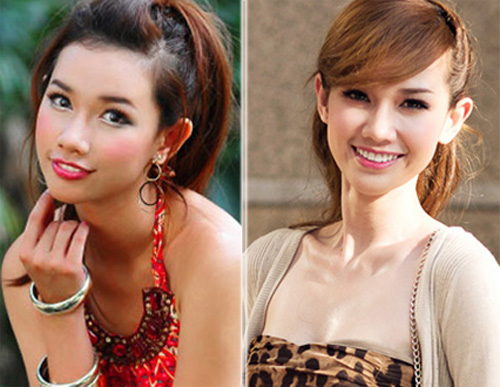 Quynh Chi.
In mid-2012, Quynh Chi unexpectedly got married with the son of a seafood processing mogul, Dieu Hien.
At the same time, the public began focusing on Quynh Chi and had doubt of her beauty. In the pictures before and after the Miss Teen 2009 pageant, the girl looks totally different in her nose and her chin.
It is rumored that Quynh Chi had plastic surgery shortly after the Miss Teen 2009, the time she was 19 years old, too young for such surgery. However, Quynh Chi is more beautiful because she used plastic surgery cleverly enough.
Compiled by Nhu Quynh