VietNamNet Bridge – Viet Nam's opera lovers will be treated to some classic melodies this weekend, when the first opera Co Sao (Ms Sao) featuring the country's 20th century revolutionary music by celebrated composer Do Nhuan is performed at the Ha Noi Opera House.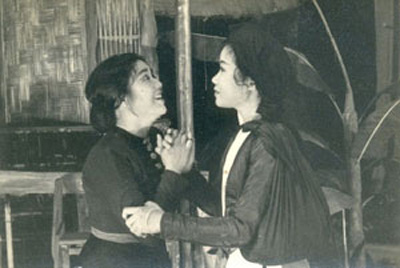 Revolutionary arias: A scene from the 1965 opera Ms Sao.
The opera will be re-staged this weekend to celebrate the 90th birthday
of its composer, Do Nhuan. — File Photo
The show also commemorates the author's 90th birthday anniversary and 55th anniversary of the Viet Nam's Composers' Association that Nhuan was general secretary of from its 1957 inception until 1983.
The opera was first staged in 1965 and revived in 1976. Since then, due to various objective reasons, composer Nhuan's general musical arrangement for the play has been lost. Nhuan's son, composer Do Hong Quan and current chairman of the association, has recently found the hand-written draft from 1960, as well as some summarised pieces and additional arias [pieces of solo singing]. In total, Quan has recovered nearly 1,000 pages of original music for the show.
"I have worked with composer Phan Anh to rewrite all the pieces and then complete the show by combining it with all that we have left today," Quan told Viet Nam News.
"I was surprised and impressed even more by my father because at that time my dad was only 40 and he wrote more than 1,000 pages of musical background, before instrumenting it for a symphony orchestra.
"My father also composed lyrics and a story for the opera. In the hand-writing draft, he also sketched the images of some characters as he imagined them," Quan said.
For this third staging, the opera has remained true to the original version with three parts over the two hours, unlike the second performance on September 2, 1976 to celebrate the unification of the north and the south, when it was cut down into a short play.
The opera tells the story Lo Thi Sao, an ethnic Thai woman living in the northeast mountainous area of Viet Nam. Sao was an orphan and suffered various injustices at the hands of the local ruling colonial powers until she met political activists, who gradually persuaded her to follow a revolutionary path against the French colonialists.
In the story, Sao makes considerable contributions to her homeland's liberation after the historic August Revolution in 1945, which led to Viet Nam's independence from France.
In the upcoming show, the main characters will be played by sopranos voice Ha Thi Thang Long and To Loan for the role of Sao, baritone Manh Dung as political prisoner Hong Ha, and nearly 200 other artists from the Viet Nam Orchestra and Ballet Theatre.
"I believe that the talents of the singers, who play key roles in the performance, will contribute to our success," Quan said, "They have followed classical music training, even while it was unfashionable to do so.
"It's high time for us to balance the importance of all music forms to keep great value [classical opera] in the spotlight."
Quan added that besides experienced faces like Japanese conductor Tetsuji Honna, Vietnamese conductor Manh Chung directing the choir and Vietnamese choreographer Nguyen Anh Phuong, the opera gathered a new generation of artists for what has been described as an "adventure".
Huyen Nga, a young director of the theatre who has chosen to study the opera for her college graduation thesis, has been working as the show's theatrical director.
"It's my great honour as well as a challenging task for me," she said, "I hope with the co-operation of other artists, I can contribute something."
"Our team have practised for months now," said soprano Long, "Though we don't have to sing in a foreign language like in other operas, it is still challenging to us as it is a real classical opera with very complicated musical notes."
The opera will be performed at Ha Noi's Opera House this Saturday and Sunday at 8pm, with the Saturday show broadcast live on VTV1 channel.
Composer Do Nhuan was born in 1922 in the northern province of Hai Duong. He then moved to the coastal city of Hai Phong to live with his parents, where he joined a scout team at age 14, where he learned Western music. He also taught himself traditional music and could play various instruments such as the bamboo flute, monochord and two-chord guitar.
Nhuan composed his first song Trung Vuong (Trung Queens) at 17.
Nhuan also engaged in revolutionary activities and was imprisoned by the French in 1943.
He was among the first Vietnamese composers to gain musical training at the Tchaikovski Music Academy in Russia between 1959-62.
He has been awarded with the Ho Chi Minh Prize for Literature and Arts plus other high-ranking honours.
VietNamNet/VNS