VietNamNet Bridge - A well-known architect, who has participated in many monument restoration projects, says that officials of some localities are only interested in "commission" and they do not have good attitude to relic restoration.

Destroying legacy for restoration!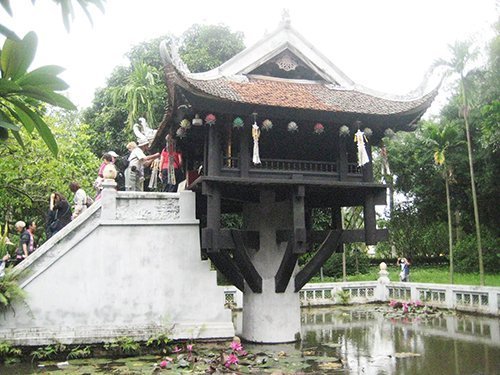 One-Pillar Temple, Hanoi's symbol.
Architect Ly Truc Dung says many foreign funds want to invest in cultural projects in Vietnam but they are not licensed because foreign investors never pay "commissions."
"Some local officials asked me to calculate funding for relic restoration projects. Once, after making a calculation, I offered the amount of VND1.5 billion ($70,000) but they asked me to raise the figure to VND11 billion ($500,000)," Dung says.
Architect Ly Truc Dung said that if local leaders lack a sense of responsibility and good behavior, there is no way to preserve legacy. He said, if they are interested in is to get the money "commission."
"I was very in self-love when a foreign friend told me that Vietnamese today are destructing legacy. As a heritage is recognized by the world, everyone tries to take advantage of it for benefit," said Dung.
Commenting on the working style of culture management agencies, Prof. Tran Lam Bien said that they work like machines. Only until relics are harmed, they pay attention to. "Working in such a manner is not fully responsible for the past and present," Mr. Bien commented.
In fact, it is not natural that the monks of Tram Gian pagoda demolished some old works to rebuild them. Earlier, monks repeatedly asked the local authorities' permission to renovate these works because they could collapse any time.
The One Pillar Pagoda is a similar case. Located in the heart of Hanoi, the temple was always threatened by flooding. On the occasion of the 1000th anniversary of Thang Long - Hanoi, the temple was partly renovated but the roof is still leaked. In addition, many items in the temple are also rotted and need to be replaced.
However, as a national monument, everything must be approved by the competent authorities. Only the anti-leak needed tens of seal. Over the past few years, the temple has sent dozens of petitions to relevant agencies but until now, the question of when will the One Pillar Pagoda be restored is still not answered.
Prof. Hoang Van Khoan, National University of Hanoi, said that in many places, the restoration is not done correctly under the current regulations. Original objects are disposed to replace by modern sculptures and materials.
Architect Ly Truc Dung asks: "Why people cannot realize many monuments after they are restored?" According to him, it is because those who implement the restoration have no knowledge of history, architecture and culture.
Prof. Luu Tran Tieu, chairman of the Cultural Heritage of Vietnam Association, the majority of personnel involving in heritage conservation are not specially trained, so their professionalism is not high.
"With misconceptions about heritage conservation activities as at present, we are in danger of losing the identity of many cultural and historical relics after restoration," he said.
Compiled by T. Van