VietNamNet Bridge – The top 10 singers of the Viet Nam Idol contest succeeded, more or less, in expressing their individuality at the first night of the Gala Round held in HCM City last Friday.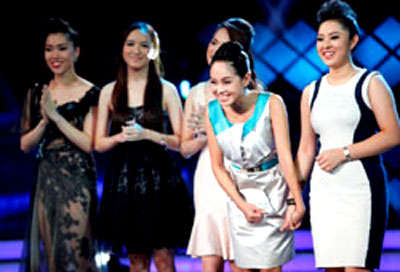 Aspiring stars: Singer Hoang Quyen (second from right) received comments from judge My Tam
saying that she had the potential to become a professional singer. — Photo webphunu.net


In general, they seemed to have found their own styles and niches, judges commented.
The first of nine segments of the Gala Round was titled Toi La Ai (Who Am I).
After showing a strong character in previous rounds, Tran Huynh Thanh Truc chose a song to express a feminine and tender aspect.
"I do not want to force myself to follow any defined style," Truc said.
"I think the tea-room style song does suit your voice, but aren't you taking a risk when the stage needs a stronger attraction?" judge Quoc Trung commented on the bossa nova tune.
"However, it cannot be denied that you sang the song well," he added.
Nguyen Thanh Hung brought to the night a song composed by himself called Canh Dong Tinh Yeu (Field of Love).
Instead of playing the guitar while singing, as he has done so far, Hung decided to focus more on his voice and singing.
Judge My Tam was impressed.
"I thought I was walking hand-in-hand in a vast field with my love," she said.
"However it would have been better if you sang at a half-tone or a tone higher."
But judge Quang Dung opined that Hung's performance had failed to create a great impression on him.
Pham Hong Phuoc chose Buoi Sang o Ciao Cafe (Morning at Ciao Cafe) by composer Vo Thien Thanh.
"The song was sung successfully by Ha Anh Tuan, but I aimed to make it different," Phuoc said.
All three judges expressed high appreciation of Phuoc's performance.
"We faced a lot of objections when we chose you. But it does not matter now because your performance was really good," Quang Dung said.
Quoc Trung said: "I think you have found your own style. From now on, you need to choose songs following this style. I do not regret choosing you."
Cao Thanh Thao My impressed with composer Duc Tri's Toi Tim Thay Toi (I've Found Myself).
"I wanted to make it more youthful than the original version," My said.
"You did not disappoint us. You have showed progress after each round. Your performance was professional, bright and nice, and made it easy for listeners to like it," My Tam said.
Nguyen Anh Quan chose a song by Judge Trung, Ngay Khong Mua (Day without Rain).
My Tam said she loved the way Quan brought a new soul into the song.
All three judges commented that Nguyen Thanh Tung's rendition of Nuoi Tiec (Regret) by composer Ho Hoai Anh was not very natural and was a little overdone.
In the closing performance of the night, Ya Suy presented Lang Tham Mot Tinh Yeu (A Silent Love) by Thanh Bui.
"You have stepped closer to the audience and the professional stage," Quoc Trung said.
"I believe that a lot of listeners will send sms to vote for you," added Quang Dung.
Voting through sms for favourite singers will close at 7.30pm on Friday, 30 minutes before the live telecast that will announce the results on VTV3.
VietNamNet/VNS