VietNamNet Bridge - "In the home of Vietnamese, why there are no Vietnamese sculptural works?" To answer this question, a "landing" in the true sense of nine young sculptors has brought about a new spirit.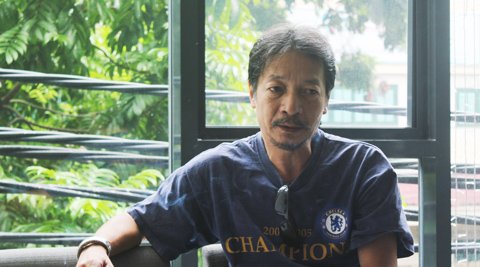 Sculptor Dao Chau Hai, who won the grand prize Euvariste Jon Chere
of the B. Taylor Art Artist and Architecture Association (France) in 1997.
The group exhibition "New Form" has made viewers surprised at the diversity and abundance of Vietnamese sculptural works, with a variety of materials and compact sizes.
This exhibition is not merely a "show" of the beauty of sculpture as usual, but more realistically, it targets to middle-class families, who are decorating their home by crafts or "absurd stones of sky-high prices" (as saying by sculptor Dao Chau Hai, who won the grand prize Euvariste Jon Chere of the B. Taylor Art Artist and Architecture Association (France) in 1997).
Nine sculptors who were born in the 70s and 80s gathered with the desire to create a more powerful strength so the crowd can see. They made small works with a height of less than 50cm, high applicability, easy to display in the home or office space. They said that instead of giant works, small pieces will easily penetrate into the life, be gradually familiar in mind and gradually improve people's aesthetics.
Saying that there are many people are interested in sculpture but do not have access to information, Khong Do Tuyen, a lecturer of the Vietnam University of Fine Arts - offers a collection of five works about man in the modern world. The works are numbered, aluminum casting with surfaces that do not go into technical details, creating a sense of mystery and inner container. Aluminum material is also very interesting, providing strong, solid character.
Unlike the works of philosophical knowledge of Tuyen, ethnic minority people in the nation's northern mountains of Pham Thai Binh are much more carefree and fun. He uses composite covered by lacquer with sparkling surface as preferred by the West.
This sculptor displays a variety of works attracting the attention of viewers by the close shape of characters, the spirit of joy and optimism exuding in every gesture or in smallest details (a wind propeller, a guitar strapping on the shoulder or a bird parking on a bicycle…). Thai Binh said, his works are in cost from $3,000 to $4,000 if they are sold to foreigners, but to Vietnamese, he was willing to sell at lower prices to bring the works to the public.
Sculptor Pham Thai Binh and his works.
Tran Trong Tri – a Master degree holder specialized in sculpture of the Art University of Vietnam is also an impressed author with a set of aluminum casting works "Love and Reason". For him, it is not only the love for family but also love of the country. He said the most difficult thing in sculptures is conveying the abstract language such as literature or thought into the language of body and objects.
Mentor, of the eldest brother of this group - Dao Chau Hai said: "We are here not to trendsetter any artist, but to help culture and aesthetics raise their voice. How to have the presence of sculpture rather than the presence of individually sculpture artists in the society. In families with average economic conditions, the art must be present, as simple as a flower vase, a warm tea only. The society has too much chaos in culture. Now is the time to make the physical and mental conditions in parallel with each other."
A flock of fish.
"The Slug" - Thai Nhat Minh

Sculpture "The New" opened at 6pm on Saturday, October 6 at 12 Quan Su, Hanoi, and will last on October 21.
"Portrait" - Hoang Mai Thiep
"Cat" - Nguyen Huy Tinh

"Combination" by Pham Bao Son

"Seed"
Dao Chau Hai's works.
Khong Do Tuyen's works.
Ho Huong Giang
Photo: Angellittlefire