VietNamNet Bridge – An exhibition titled 'World of KIRIGAMI: A Hundred Flowers & Words' featuring art works by Japanese artist Kanako Yaguchi will be held at the Japan Foundation Center for Cultural Exchange in Hanoi from September 22 to October 21.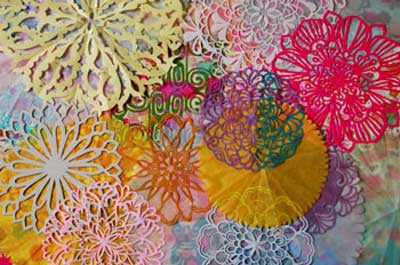 Kanako Yaguchi is highly acclaimed as a promising KIRIGAMI artist who adds new value on the traditional KIRIGAMI handicrafts by fusing contemporary ideas into them.
Many of Kanako's original patterns have become standards in KIRIGAMI works and her cutting-edge patterns are used for new designs for Japanese traditional clothes likely the Kimono and Yukata, as well as for advertisements. Kanako has also published many books on KIRIGAMI and often appears on TV in Japan as an instructor for making KIRIGAMI works at home.
Born in 1976, Kanako Yaguchi graduated from the Department of Design at Joshibi University of Art and Design, Japan. She currently works in the apparel industry and has had many solo exhibitions.
She also owns shops, designs logos and holds workshops on KIRIGAMI works. She has released many books in English including The Art of Decorative Paper Stencils 1 & 2 (Quarry Books, 2008, 2009).
KIRIGAMI (paper cutouts) is one of Japan's traditional arts and a variation of Origami (folding paper).
These KIRIGAMI works are usually seen in Buddhist and Shinto festivals in Japan, decorative paper for New Year, Tanabata (The Star Festival), paper lanterns for fairs, paper toys for kids, wall paper and folk handicraft products.
VietNamNet/SGGP