"The Colours of Vietnam" shines in US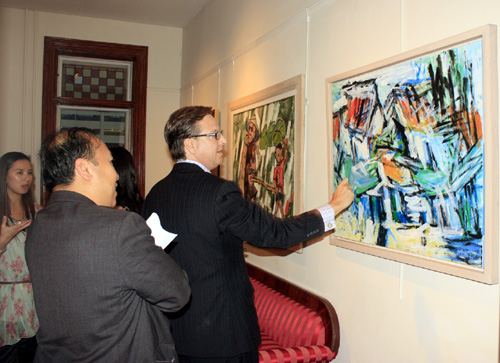 An exhibition entitled "Vietnamese Contemporary Art: The Colours of Vietnam" is now on show at the Washington Arts Club in the USA from September 7-29.    
The event is a cultural exchange organized by the Vietnamese embassy in the US to commemorate the 67th anniversary of Vietnam's National Day (September 2).
The paintings on display represent a wide range of styles and media, from traditional techniques such as lacquer and oil on canvas, to unique materials like rice bags.
The 30 paintings by seven artists depict Vietnam from its struggle for national independence to its current stage of development, offering the American audience a broad view of daily life in the country including family love, beautiful Vietnamese women in ao dai (traditional long dress) and changes in the capital city of Hanoi.
The exhibition features artists Hong Viet Dung, Dao Thanh Duy, Bui Huu Hung, Pham Luc, Tran Luu My, Dinh Quan, and Le Thanh Son, some of whom are self-taught, and some received a classical art education. All seven artists have shown their work internationally in Asia, Europe and the United States.
San Art Gallery founders exhibit works in USA
Artworks by all four founders of the San Art Gallery in HCM City are showcased in an exhibition at the San Francisco Museum of Modern Art (SFMOMA) until December 31.    
Six Lines of Flight: Shifting Geographies in Contemporary Art features the works of Dinh Q Le, the Propeller Group and Tiffany Chung.
The exhibition, curated by Apsara DiQuinzio, brings together nearly 20 artists and art collectives from six cities around the globe that have become burgeoning artistic centers-Beirut (Lebanon), Cali (Colombia), Cluj-Napoca (Romania), HCM City (Vietnam), San Francisco (USA), and Tangier (Morocco).
Six Lines of Flight convenes artists who have created and helped build diverse organizations on a grassroots level in the six cities, presenting works that index the distinctive histories and cultural character of each location, says DiQuinzio.
According to a SFMOMA press release, the art scene in Vietnam used to be chiefly centered in Hanoi, but in recent years it has become increasingly identified with HCM City, thanks largely to the formation of San Art.
"San Art has brought many international artists and curators to HCM City for the first time, helping to bridge local Vietnamese communities and the international contemporary art circuit, and regularly presents the work of local Vietnamese artists", it says.
A full color catalog with text by writers from each city and their respective organization has been published for this occasion.
French flautist, pianist to play
A flute and piano concert will be staged by French musicians-Clement Dufour and Tristan Pfaff at HCM City Academy of Music on September 20.  
The concert is being organized by the French Institute in Vietnam and the Institute for Cultural Exchanges with France (IDECAF)
Dufour, 25, studied the flute at the Regional Music Academy of Rueil-Malmaison and the National Music and Dance Academy of Lyon. He has won numerous competitions and played in many countries. He was nominated "Revelation Classique" by Adami in 2006 and was 2007's Declic Program laureate of Culture France.
Pfaff, 27, began his studies at the Conservatoire National de Region de Nantes before joining the class of Denis Pascal at the Conservatoire at Rayonnement Regional de Rueil-Malmaison. In 2000 he was admitted to the Conservatoire National Superieur de Musique in Paris, where he won the 2003 prize in piano with honors and the Diploma of Higher Education in piano and chamber music with distinction. Pfaff has won numerous international competitions. His first recording ("live" in Auversur-Oise) was released in 2010 in DiscAuvers.
The concert, which begins at 8pm, will include Debussy's Syrinx (solo flute) and pieces for Afternoon of a Faun and Bizet's Carmen.
Ticket costing VND200,000, VND150,000 and VND100,000, (50 percent discount for students) can be bought at 112 Nguyen Du, District 1, HCM City.
Art exhibition highlights Vietnam-Rok relations
Nearly 200 photographs and calligraphy works featuring Vietnam and the Public of Korea (RoK) are being showcased in an exhibition that opened in Ba Ria-Vung Tau province on September 18.    
It is one of the events during the Vietnam-RoK Culture Week to celebrate 20 years of diplomatic ties between Vietnam and the RoK.
The exhibition highlights the traditional culture as well as modern life in the two countries while introducing their long-standing relationship to young generations through pictures illustrating renovation and social-economic development.
Addressing the opening ceremony, Vice Chairman of the Ba Ria –Vung Tau People's Committee Le Thanh Dung emphasized the significance of this exhibition as part of the Vietnam-RoK Friendship Year 2012.
The exhibition will last until September 23.
Festival honours northeastern ethnic groups
The 8th Northeastern Region Ethnic Minority Culture, Sports and Tourism Festival will be held in Tuyen Quang province on September 27-30.   
The event aims to introduce domestic and foreign visitors to the distinctive cultures of the northeastern region which are being preserved during the process of integration and development.
It will be participated by art troupes from nine provinces, namely Phu Tho, Ha Giang, Thai Nguyen, Bac Kan, Quang Ninh, Lang Son, Vinh Phuc, Bac Giang, and the host Tuyen Quang, said Vu Thi Bich Viet, Vice Chairwoman of the Tuyen Quang provincial People's Committee.
A photography exhibition on ethnic minorities will take place during the festival, as well as a trade and tourism fair, arts performances, a beauty contest and various sports games.
The organizing board of the Tuyen Quang beauty contest has received more than 150 entries from hopeful local residents and shortlisted 22 for the final round of the competition.
The winner of the contest will receive VND30 million, while the second and third runners up will win VND20 million and VND15 million, respectively.
Photo exhibit raises funds for disadvantaged women   
A photo exhibition featuring life of single disabled women will be open from September 20-21 in Hanoi, with all proceeds going to help the plight of the exhibit's subjects.
The two day exhibition will be held at the Centre for Women and Development, at 20 Thuy Khue Street, Hanoi. It is entitled 'Xuong rong van no hoa', or 'A cactus also blossoms'. The show bares the same name as a project aiming to provide support to disabled single women and their children.
This will be the first event in a series by the project organisers, the Action Centre for Community Development, and sponsored by the Vietnam Bank for Social Policies and the British Council.
The photos, which were taken by both professional and amateur photographers, depict the lives of disabled single women in Hanoi.
According to the organisers, they will set up a fund that will be used to provide support for these women.
Saigon libraries struggle to remain open
Libraries in Ho Chi Minh City are presently facing many difficulties like shortage of capital, lack of proper premises and poorly trained human resources.
The General Sciences Library in Ho Chi Minh City is struggling to keep its doors open and continue to serve its readers, same as other libraries in the City that are faced with a cash crunch, lack of proper premises and shortage of trained personnel.
The library received financial assistance from the FORCE fund, South Korea's SK Telecom Group, the American Chamber of Commerce (AmCham) and United Way International (UWI), French Consulate General in Ho Chi Minh City and French Valease (Book Enhancement in Southeast Asia) project to build rooms for audio books, equipment, organize mobile bookstores and open the Ly Tu Trong children's library.
The library has also leased its premises for opening a book café to earn money and has upgraded old reading rooms into modern reading rooms for businessmen.
Meanwhile libraries in districts around the city have not attracted visitors because of lack of professional human resources, no addition of the latest books and lack of so many other essential facilities. Most of these libraries are located in districts' cultural centers with other entertainments that have detracted from a reading environment.
According to Bui Xuan Duc, director of HCMC General Sciences Library, districts should join hands to build large-scale libraries with diversified cultural activities to lure more readers and avoid wasting on poor quality small libraries in every locality.
 Zitherists pluck tradition
Musicians from Ha Noi, Hue, HCM City and Tokyo will participate in the third annual Zither Festival in HCM City this week.
Zitherists will perform traditional music at the four-day festival.
Several exhibitions and talks by music professors. including musicologist Tran Van Khe, will be held.
Khe spent years researching the zither, a traditional multi-stringed instrument.
The zither is known as koto in Japan, kayagum and komungo in Korea and guzheng in Singapore.
Kayagum and komungo are played with the fingertips while other zithers are played with plectrums.
In Viet Nam, it is called dan tranh or dan thap luc (16-chord zither).
Singapore's guzheng is similar to Viet Nam's dan tranh 16-string guitar but it is larger and boasts between 18 and 21 cords.
The deep sounds of the kayagum are similar to that produced by Viet Nam's dan day (with a long neck and three strings, a distant cousin of the guitar) played in cheo (traditional opera).
Well-known artist Nguyen Thi Hai Phuong, who has won top awards at local and international music competitions, will perform at the festival.
One of Asia's leading zitherists, Phuong, has featured in solo and group performances in many countries, and now works as a music teacher at the city's Academy of Music.
In 2000, Phuong and her group opened the first Asian Zither Festival in HCM City by playing a tai tu traditional piece Duyen Ky Ngo (Marvellous Encounter). Tai tu music was popular in southern Viet Nam in the 19th century.
Zitherists Hong Nga and Hong Hanh will also perform.
Nga and Hanh work for the Hue Academy of Music and Viet Nam Institue of Musicology, both prestigious music schools.
The musicians will perform nha nhac (royal music), cheo (traditional opera) and tai tu traditional music.
While nha nhac is originally from Hue, cheo is popular in the northern provinces.
Japanese artists Toshiko Nagase and Kenzan Nagase will present their traditional music on the koto.
Organised by the HCM City Sound of the Homeland Club and its partners, the festival aims to preserve and popularise traditional music.
"We're interested in performing and teaching traditional music because we believe the art can connect people around the world," said Phuong, a lecturer and member of the Sound of the Homeland Club, which was founded 32 years ago.
The club offers training courses and performances, attracting nearly 150 traditional singers, dancers and music players; many of them are students and young workers.
Several traditional music exchange programmes between the club and music troupes in Canada, Japan, South Korea and France have been organised.
The four-day festival will begin at 7.30pm on Friday at the Lao Dong (Workers) Culture Palace, 55B Nguyen Thi Minh Khai Street, District 1. Tickets, which are free, are available at the Culture Palace.
Precious trees to be preserved
The Hue Monuments Conservation Centre is planning to build a sanctuary for rare and precious trees where the treasured species can be preserved and cultivated.
According to the centre's director Phan Thanh Hai, the vestiges of the ancient royal capital housed many rare and precious trees that were donated by different regions of the country. However, many of them no longer exist.
The garden, scheduled for early next year, will be built in the area of the former Quoc Tu Giam School (Imperial Academy) in Huong Ho Commune, Huong Tra District, Thua Thien Hue Province.-
Old cargo ship found in river
Archaeologists this week unearthed an old cargo ship that had sunk in the Lo River in An Khang Commune, Tuyen Quang Province.
The 41m-wide and 8.8m-large wooden ship is thought to date back to the late 19th century and was discovered in excellent condition.
Experts found five bronze oil lamps in the ship and several glass light bulbs originating from Britain and Germany.
According to experts from the Ministry of Culture, Sports and Tourism's Antiques Evaluation Council, the steam-powered ship may have witnessed the French colonialism period in Viet Nam, or even the anti-colonialist uprisings in the northern Tuyen Quang Province.
Tuyen Quang Province is planning to surface the ship, which is a rare find, for preservation at a local museum.-
Record, CD Fair opens in HCM City
The annual Record and CD Fair will open tomorrow at the Workers Culture Palace on Nguyen Thi Minh Khai Street in District 1.
About 50 local music and film producers and distributors nationwide will take part in the three-day fair that is being held as part of the city's efforts to dissuade people from producing and using illegal products.
Among the participants are major producers like Phuong Nam Film, Ben Thanh Audio, Viet Tan Studio and Sai Gon Vafaco.
Organised by Phuong Nam Film in co-operation with the Recording Industry Association of Viet Nam (RIAV), the event aims to encourage local companies to develop their business, find new partners, promote and market programmes at home and abroad.
More than 5,000 quality CDs, DVDs and videos featuring music, films, cartoons and games manufactured and distributed by local and foreign companies will be on sale at discounts of 10-30 per cent.
DVDs of Hollywood productions from Warner Bros, 20th Century Fox, and Vision will also be sold at the event.
Concerts by popular singers will be staged every night as an added attraction to the fair.
Exhibition introduces Japanese paper-cutting art
An exhibition titled "The World of Kirigami: A Hundred Flowers & Words" by Japanese artist Kanako Yaguchi will be open at the Japan Foundation Centre for Cultural Exchange in Vietnam from 22 September – 21 October 2012 in Hanoi.
In this exhibition, Kanako's recent masterpieces as well as newly created works in Vietnam will be displayed, making the whole space of the exhibition into a beautiful world of kirigami.
Kanako Yaguchi, born in 1976, is a master of kirigami works who can visualize the "shape of pleasure" in enormously diverse patterns. The feature of Kanako's work is in its axial symmetry, and she is highly acclaimed as a promising kirigami artist who adds new value on the traditional kirigami craft by fusing it with contemporary sensibility.
Many of Kanako's original patterns become standards in kirigami works and her cutting-edge patterns are used for new designs of Japanese traditional cloth as well as for advertisements.
Kanako has also published a lot of books on kirigami and often appears on TV in Japan as an instructor for making kirigami works at home.Kirigami (paper cut-outs) is one of the Japanese traditional arts and a variation of Origami (folding paper) that includes cutting of the paper. Typically, kirigami starts with a folded base, which is then cut; cuts are then opened and flattened to make the finished kirigami works. Kirigami patterns are usually symmetrical, such as snowflakes, pentagrams, or orchid blossoms.
These kirigami works are commonly seen in various Buddhist and Shinto festivals in Japan; decorative paper for New Year's Day, paper lanterns, paper toys for kids, screen papers and folk handicrafts, to name just a few.
In the framework of the exhibition, an artist's talk on kirigami will be held at the Japan Foundation Exhibition Hall at 6pm on Friday, 21 September./.
Prehistoric relics unearthed in Tuyen Quang
Over 400 relics, mainly stone items dating back 4,000 – 4,200 years ago have been discovered in Nguom Hau cave in the northern mountainous province of Tuyen Quang.
Ly Manh Thang, Deputy Director of the provincial museum said the relics are found in two layers. The below layer, which is almost 1m deep, contains working tools made from stones found in rivers and typical of the Neolithic age.
The layer above, about 20cm deep, holds more stone tools, as well as dozens of ceramic pieces. Animal teeth, bones and mollusc shells were found in both layers, which were traces of food left by prehistoric men.
The archeologists also found a tomb and seven stone tools inside.
Trinh Nang Chung, head of the Science Management Department under the Vietnam Institute of Archaeology said Nguom Hau cave was once home to many generations of prehistoric men, who lived here from 4,200 to 3,000 years ago.
Con Son – Kiep Bac Autumn Festival opens later this month
The 2012 Con Son – Kiep Bac Autumn Festival will be held from September 25 to October 5 (the 15th to the 20th days of the eighth lunar month) in Hai Duong northern province.
The event is to commemorate the 712th death anniversary of national hero Tran Quoc Tuan (also known as Tran Hung Dao) and 570th death anniversary of national hero and Great Man of Culture Nguyen Trai.
A wide range of ceremonies and cultural activities are scheduled during the event, including a feast procession, a boat parade on the Luc Dau River, a ritual to pray for peace, a lantern festival and a seal opening ceremony.
There will also be sporting events such as wrestling and boat races, as well as a rice cooking contest and duck catching competition.
The highlight of the festival will be a ceremony on September 26 to receive the Prime Minister's certificate recognising the Con Son – Kiep Bac complex as a Special National Relic.
The complex covers over 8,340 hectares and includes a number of historical and cultural sites in Chi Linh town related to the glorious feats of the people and army during the Tran dynasty as well as the lives and careers of national heroes Tran Hung Dao and Nguyen Trai.
As of September 17, businesses in Hai Duong province had donated more than VND 1billion to organise the event and mobilise all social resources to encourage the entire community to participate in the annual festival.
Localities in the province have asked relevant sectors to ensure traffic safety and public security during the festival, and also take measures to prevent fires and explosions.
Reporter's book on Vietnam's martial arts
Seasoned reporter Phuong Tan has released Nhung nguoi mo duong dua vo Viet ra the gioi (Pioneers who bring Vietnam's martial arts to the world) to pay tribute to those who have contributed to the development of the nation's martial arts.
The 300-page glossy book features photos, insightful information and articles translated into English and French. It will also be published overseas.
It is divided into six parts with the first on traditional martial arts. The second and third parts are about Vovinam and those who brought Vietnam's martial arts to the world. The fourth is where readers can find 14 articles written by the reporter at many locations worldwide about the subject matter. The fifth has two appendixes while the last for related materials. The book has been critically acclaimed by those in the know.
Huynh Chieu Duong, a martial arts instructor in Belgium, said: "The book reflects the writing style of a reporter with profound and detailed questions through simple and clear sentences."
Tan has been a poet, writer, reporter, teacher and special correspondent for the bimonthly Vo thuat (martial arts) magazine. After 1975 he was the editor-in-chief of a number of magazines on martial arts. He is currently deputy head of the international festival of traditional Vietnamese martial arts, deputy head of the Hong Bang international martial arts festival and co-founder of Tay Son Institute.
HCM City duo wins top prizes at Rise Above Fashion
Pham Huu Sang and Ngo Khanh Van were champions of the Rise Above Fashion contest last Sunday at the White Palace in HCMC's Phu Nhuan District.
Sang, 24, who graduated from HCMC University of Technology and Van, 20, who is a student of HCMC University of Architecture were named best designers for male and female costumes respectively. Sang also won the audiences' vote for his collection named 'Bay' (flying). They both scooped VND100 million and a training course in Paris.
The final round had the participation of four finalists from 400 contestants.
The contest, sponsored by Pernod Ricard Vietnam, aims to find young talents for the fashion industry. The judging panel consisted of designers Cong Tri, Hoang Hai, Vu Thu Phuong and creative director Henri Hubert.
HCM City hosts Cordon Bleu Centenary
French music night 'Cordon Bleu Centenary - 100 years of passion' will take place on September 28 at HCMC Opera House in District 1.
The program is directed by Vietnamese choreographer Tan Loc and French creative consultant Henri Hubbert. Music will be directed by composer Vo Thien Thanh and music editor Huyen Thanh.
Cordon Bleu Centenary is a combination of music and contemporary dance in the theme of some classic French songs over the past century.
Entrance is free and you can send an email to cordonbleu100ys@jigsaw.com.vn or contact Ms Hong Nhi at 0122 359 1064 for invitations.