Quang Ngai Province has opened up to bids for the exploitation of 500-year-old antiques from the recently discovered wrecked ship off the coast of Binh Chau Commune.

Shipwreck yields treasures dating from 14th century
Quang Ngai blockades the shipwreck with 500-year-old antiques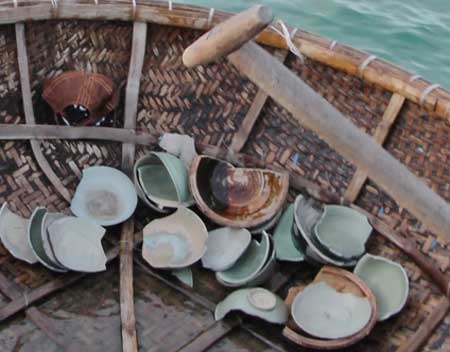 Antiques from a wrecked ship.
The invitation for bids was given by Quang Ngai Department of Culture, Sports and Tourism (DCST) and signed by local People's Committee on September 14, and has a deadline of 17h of September. To be eligible to bid an organisation must prove that they have both the financial capacity and expertise to safely carry out the work.
Three companies that have already placed bids are Dai Minh Salvage and Rescue Company, Kinh Thanh Luu Company in Quang Ngai Province and Doan Anh Duong Company in HCMC.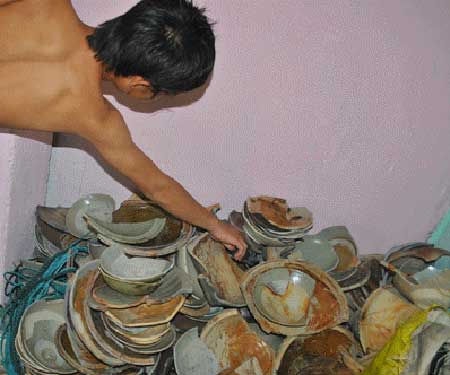 Five people injured in scuffle.
A nine member board was set up to select the most attractive offer, The deputy head of DCST, Nguyen Dang Vu, is president and Nguyen Dinh Chien, deputy director of the Viet Nam National Museum of History serves as vice president.
In the meantime border guards, police and the civil defense forces will protect the site of the shipwreck. However on September 14 and 15, amid the heavy rain and bad weather, people had sneaked onto site before they were caught by security forces, causing a disturbance in the area.
Vo Tan Men, head of Chau Thuan Bien Village, said, "Previously, five people were injured during a scuffle when they fought for antiques. Since the ship was discovered, this once peaceful town has been turned on its head because of few greedy people."
The local authorities have tried to encourage illegal scavengers to hand over any items they took, but only recovered 36. It is believed that hundreds more are being kept by the people from the village in hopes of selling them to dealers from Binh Duong or HCMC.
"Administrative procedures have delayed professional exploitation of the site. But we are quickly completing the paperwork so as to ensure the safety of the ship's contents."
DTriNews