VietNamNet Bridge – A new product by director Luu Huynh will be screened at the Toronto International Film Festival in Canada this year. It is also an entry for the People's Choice award.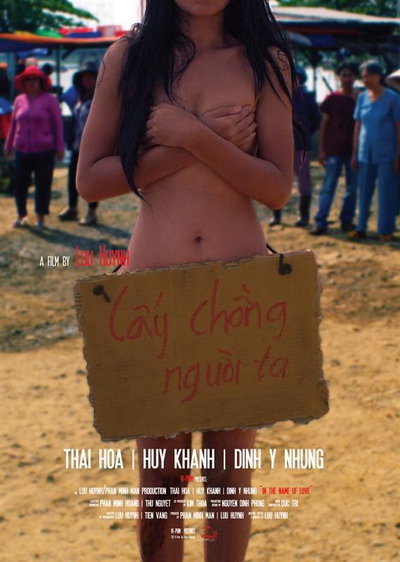 The poster of "In the Name of Love".
The 37th Toronto Film Festival has announced the name of nearly 350 partiicpating movies from many countries, including "Lay Chong Nguoi Ta" (In the Name of Love). This is a product of director Luu Huynh, who is known for "Ao Lua Ha Dong" (The White Silk Dress) and "Huyen Thoai Bat Tu" (The Legend Is Alive). The movie will compete at the Contemporary World Cinema category.

The movie tells the story about the tricky life of a woman named Lua. Lua (Dinh Y Nhung) and her husband (Huy Khanh) living a poor life in a fishing village. Their dream is having a baby. However, their child is robbed by a man (Thai Hoa).

The first teaser of this movie was released online in late May. It immediately stirred up the public because of hot scenes between Dinh Y Nhung (director Luu Huynh's wife) and Huy Khanh.

The movie is schedule for release at local cinemas in October 2012.
The Toronto International Film Festival (TIFF) is a publicly attended film festival held each September in Toronto, Ontario, Canada. The festival begins the Thursday night after Labour Day (the first Monday in September in Canada), lasting for eleven days. Founded in 1976, the TIFF is now one of the most prestigious film festivals in the world.

The 37th Toronto International Film Festival will be held from September 6 to 16.

Last year Vu Ngoc Dang's "Hot Boy Noi Loan" (Lost in Paradise) competed at the Discovery category of the Toronto festival.

Compiled by T. Van