VietNamNet Bridge – Ethnic Cham Bani people living in the central province of Binh Thuan began celebrations to welcome their new year with the traditional Ramuwan festival, which started on Wednesday.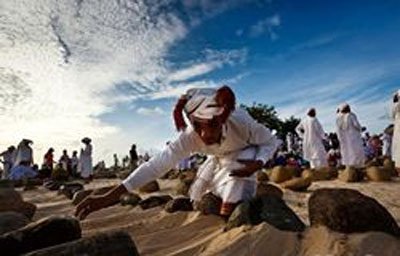 A Cham Bani man implements a step nao ghur ritual during the Ramuwan festival. (Photo: VNS)
It's the biggest festival for the Islamic community in Viet Nam, and the one-month celebration includes several traditional rituals such praying ceremonies and traditional activities such as cleaning and decorating ancestors' graves.
Among the solemn rituals, the nao ghur is the most important and involves people paying their respects to dead relatives by praying and carefully cleaning their graves. The Cham Bani people believe that this ritual is a type of pilgrimage to their ancestors.
According to Khe Thanh Mai, head of Lam Giang Hamlet in Ham Tri Commune, Ham Thuan Bac District, thanks to this year's bumper crop, the local Cham Bani community are well prepared for the new year's celebration.
During the Ramuwan, in addition to ritualistic ceremonies, other activities include sports and other competitions along with folk music performances that attract thousand of local people as well as tourists.
Binh Thuan Province is home to more than 15,000 ethnic Cham Bani people.
VietNamNet/Viet Nam News