VietNamNet Bridge – A calligraphy exhibition featuring Nhat Ky Trong Tu (Diary in Prison) poetry by President Ho Chi Minh opened its doors to the public in Ha Noi yesterday, May 21.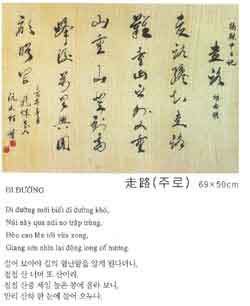 Writing on the wall: Caligraphy by Korean and Vietnamese artists is on display at an exhibition at the Korean Cultural Centre in Ha Noi.
Showcasing 45 calligraphy works created by 23 South Korean and three Vietnamese artists, the display is intended to celebrate the 122nd birthday of the President on May 19, and the 20th anniversary of diplomatic relations between Viet Nam and South Korea.
Nhat Ky Trong Tu was written during a 12 month stint behind bars between 1942 and 1943 when Ho Chi Minh was imprisoned by the Chinese nationalist Chiang Kai Shek army in Guanxi Province.
President Ho used his incarceration to polish his skills as a revolutionary poet, and produced 50 verses which were compiled into his most enduring literary work. The collection embodies the universal appeal of Ho Chi Minh's rational, romantic and conscientious poetry.
In the last 50 years, Nhat Ky Trong Tu has been translated into many languages and become an inspiration for many foreign people, including artists. Nhat Ky Trong Tu was translated into Korean for the first time in 2003.
The exhibition will run until May 31 at the Korean Cultural Centre at 49 Nguyen Du Street before travelling to HCM City.
Since 2005, the exhibition has travelled to several big cities in South Korea, including Seoul, Busan, Jeju, Soncheon and Daejeon, as well as Hue and Vinh in Viet Nam.
VietNamNet/Viet Nam News