Feel Japan in Vietnam 2018 opened in Ho Chi Minh City on July 14, as part of events marking 45 years of Vietnam – Japan relations.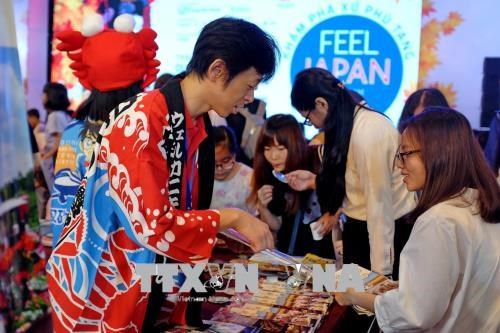 Visitors shop at the Feel Japan in Vietnam 2018
The two-day festival is treating visitors to a series of performances and activities that show the unique culture and lifestyle of Japan. They include the performance of kendama (traditional Japanese skill toy for cup-and-ball game); special performances of Ninja and Orian dancing groups from Edo Wonderland - a popular park in Tochigi prefecture; and free-of-charge consultation for beauty care following Japanese methods.
The event, jointly held by the Kilala Communication Company Limited and Song Han Tourist Company, also features tourism and other products of more than 90 popular brands from Japan.
Hirofumi Kasado, general director of Kilala Communication, said the Feel Japan in Vietnam festival has contributed to reinforcing cultural exchange and mutual friendship between the two countries.
Kilala Communication wants to offer Vietnamese people a Japanese-standard cultural festival of tourism and shopping experiences as well as unique performances, he noted.
Takahashi Ayumi, chief representative of the Japan National Tourism Organisation in Vietnam, said the event plays a good role in the promotion of culture and trade.
Over the past three years, the Japanese tourism market has grown significantly following the easing of visa requirements for Vietnamese and increasing flights between the two nations, he said. 
Feel Japan in Vietnam 2018 is expected to draw more than 20,000 visitors. Last year, it attracted close to 20,000 people and secured about 1 billion VND (43,680 USD) in revenue.
Vietnamese festival in Japan's Kanagawa on the horizon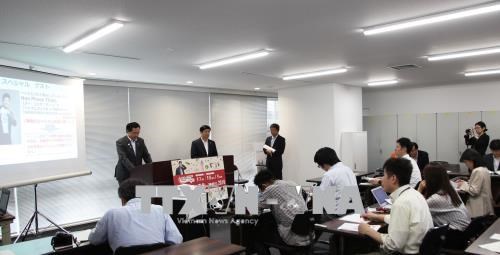 At the press conference 
The fourth Vietnamese Festival in Japan's Kanagawa prefecture will take place in Yokohama city from September 7-9, the event's organisation board announced at a press conference on July 13. 
Speaking at the event, Vietnamese Ambassador to Japan Nguyen Quoc Cuong said since 2015, the annual event has been held successfully, helping promote cultural, economic, trade and investment ties between Kanagawa and Vietnam. 
This year's festival is of special significance as it takes place on the occasion of the 45th anniversary of diplomatic ties between Vietnam and Japan, the diplomat noted. 
He described the visit to Vietnam by Japanese Emperor Akihito and Empress Michiko in 2017, and the State visit to Japan by President Tran Dai Quang in May 2018 as milestones of the fruitful relations between the two countries. 
Vietnamese and Japanese leaders expressed their wish to intensify exchange between residents of the two countries, he said, noting his belief that the festival will be a success. 
Kanagawa Governor Kuroiwa Yuji said there will be various cultural and art activities within the framework of the event such as water puppetry and Ao Dai (Vietnamese traditional long dress) shows, traditional musical instrument performances and culinary events. 
Besides, the festival will feature workshops on Vietnam's investment environment, along with screenings of Vietnamese films.
According to the organisation board, the 2017 festival attracted more than 200,000 visitors and created deep impressions on residents in the prefecture and its adjacent localities. 
Of note, the Kanagawa authority has decided to organise the first-ever Kanagawa Festival at Ly Thai To Park in Hanoi from November 16-18.
VNA