VietNamNet Bridge – Thousands of Vietnamese and foreign visitors gathered for the Viet Nam Tattoo Expo in Hanoi at the weekend.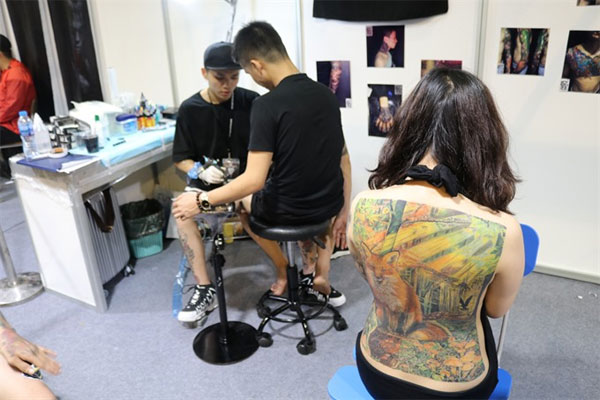 Youngsters and tattoo artists took the chance to showcase their tattoos. — VNS Photo Paul Kennedy
Big names like Gau Den, Ga Rung and Nam Phong from Vietnam, Orient Ching and Josh Lin from Chinese Taipei, and Ann Savage from the Philipppines were among the 150 artists from 15 countries participating at the event.
The tattoo expo was a rare playground for tattoo fans.
Festival-goers took the opportunity to get new designs and watch the artists at work to a background of EDM music and hip hop performances.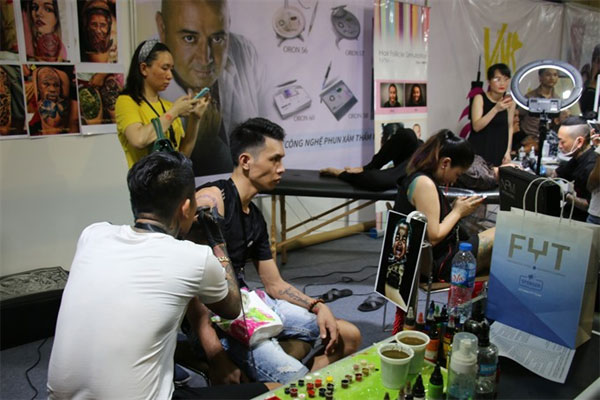 Viet Nam Tattoo Expo is the biggest ever festival for tattoo fans to be held in the country. — VNS Photo Hong Van
Tattoo designs featured anything from images of celebrities to traditional Vietnamese designs such as the unicorn, dragon and lotus.
The expo brought a bold message – to change the attitude of Vietnamese people towards tattoos.
"It's our first time in Hanoi and the tattoo expo. It's really amazing. We are shocked. It's exotic for us because in Poland we don't have too many Japanese styles in tattoos or oriental style," said Joanna Jilnska, a Polish festival-goer.
Tattoo artist Vu Linh Phuong said: "I can see that this year's expo is larger and had drawn more artists than before. The atmosphere is hot and dynamic with artists performing live. The tatoo designs this year are very beautiful and unique.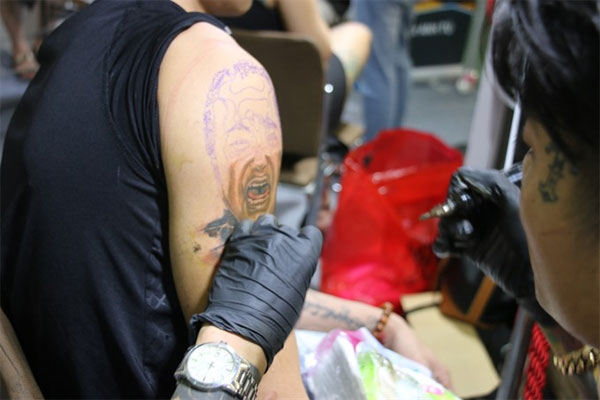 In Vietnam, there is still prejudice against tattoos. — VNS Photo Hong Van
"I hope that through this event, the art will reach out to the public, especially those who have strict and negative attitudes towards tattoos," said Phuong.
"In Vietnam, there is a prejudice against tattoos, and people often have negative impressions of people who have them. For tattoo artists like us, we just accept the prejudice and try to prove to other people that having a tattoo is not that bad. We express our passion through our designs and prove to them with our healthy lifestyles. It might be difficult in the long term, but people will change the way they see tattoos if they are open to our work environment and our art," she added.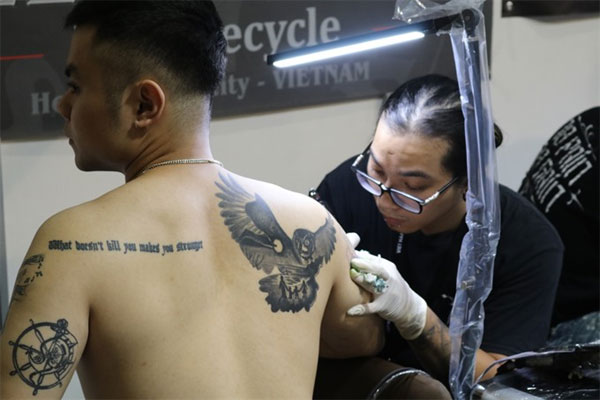 The expo had a bold message – to change the attitude of Vietnamese people towards tattooz. — VNS Photo Paul Kennedy
Larry Wang, a Taiwanese tattoo artist said: "The general vibe is great. Like, people are very accepting, they love tattoos."
"In their early stage, there is more Japanese style oriented, and then they started moving to the Chinese level, but now they have their own thing. They utilised the Asian oriental ways of working in Vietnamese topics, and now they've progressed into Vietnamese style, which is great. They're super-fast learners so in order to progress, first you imitate, and then you have your own style and they're moving onto that level now. I'm looking forward to seeing a lot more stuff," he added.
Source: VNS