VietNamNet Bridge – Many film soundtracks are becoming local hits, helping some young singers become pop stars.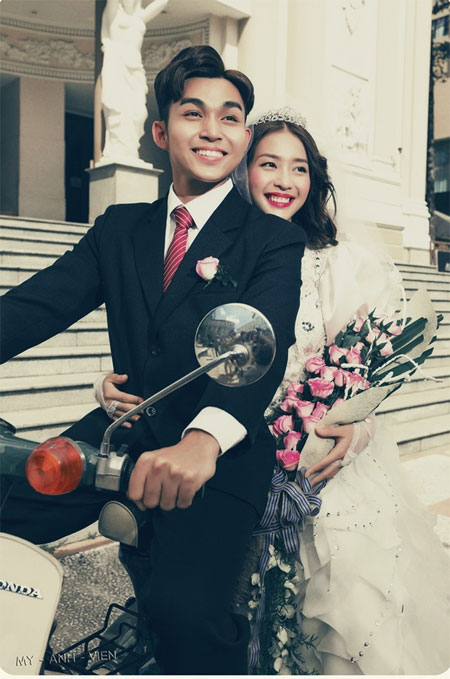 Love story: Young actor and singer Jun Pham is a new pop idol after appearing in "100 Ngay Ben Em" (A Hundred Days With You), a romantic comedy released in April. — Photo courtesy of the producer
Young actor Jun Pham became a pop idol after his latest song appeared in 100 Ngay Ben Em (A Hundred Days With You), a romantic comedy released in April.
He performed Doi Loi (Words), one of the film's soundtracks, a love song by young composer Hoang Dung. He also played a leading role in the film.
After the film's release, its soundtrack Doi Loi became the year's favourite song voted by fans on music online forums. 
Jun produced a music video (MV) featuring Doi Loi. The MV became a top hit. It has attracted more than 300,000 views on YouTube.   
The 26-year-old Jun wrote a message on Facebook, saying, "I love music. I decided to develop my career in both film and singing."
Another songwriter and singer is Trinh Thang Binh.
Binh began his career in 2000, but he was an unknown until he performed a soundtrack in Ong Ngoai Tuoi 30 (Scandal Maker), a comedy released in March.
His song, Tam Su Tuoi 30 (I'm 30 Years Old), became a hit after the film's release.
The song has attracted more than 2.6 million views on YouTube.
According to composer and songwriter Only C of Hanoi, film companies frequently contact him and other young musicians to order and buy their old and new songs.
"Creating instrumental music is the fastest way for young artists to train and achieve a high degree of professionalism," he said.
Only C wrote two songs Em Chua 18 and Yeu La Tha Thu (Love Means You Never Say Sorry) for the film Em Chưa 18 (Jailbait), a teen comedy directed by Nguyen Thanh Son.
Both songs were performed by young singer and rapper Will and Lou Hoang.
While the film earned more than US$4.4 million in ticket sales in the first 11 days of release, its soundtracks, Em Chua 18 and Yeu La Tha Thu, each attracted over 3 million views on YouTube.
Film producer Mai Thu Huyen of Tincom Media, who works for leading film companies in HCM City, said: "The driving force behind film producers' interest in using works composed by young musicians is the demand from audiences, mostly teenagers, for songs written and performed by young faces." 
"The music, with its melody based on traditional Vietnamese music and Western songs, is used in Vietnamese films to win the hearts of young audiences."
"Considering the high royalties that film companies pay young musicians, I think they have no reason to turn down our offers," she said.  
Film companies on average are paying around VND30 million ($1,400) for each new song, and a maximum of VND150 million ($6,500) for a song by famous artists.  
In previous years, to create a soundtrack for a film or TV series, producers preferred working with veteran musicians like Duc Tri and Huy Tuan, who received up to several hundred million dong for each film.
Now they are willing to work with younger faces to encourage new talents and save money for their film's budget.  
"Making soundtracks professionally is very important to the development of Vietnam's music and film industries," said singer and songwriter Binh, explaining how interest in films is encouraging him and his colleagues to churn out popular hits. 
By Thu Anh
Source: VNS