VietNamNet Bridge – Dau Quang Thanh's skill of painting on rocks has earned him the nickname, Thanh The Rock.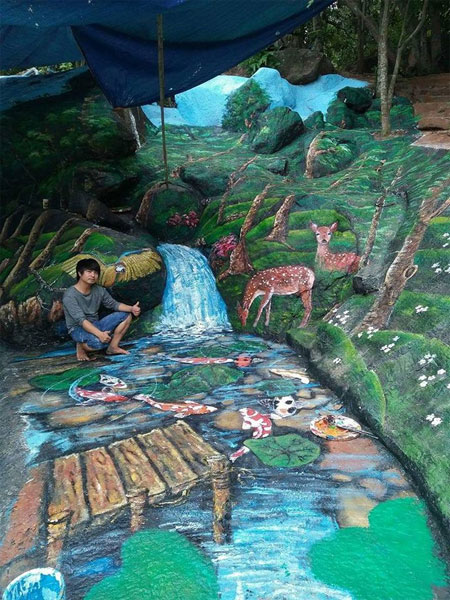 Lifelike: Thanh poses beside an artwork he is working on. Photo courtesy of the artist
Once a poor student who used to sketch portraits for tourists to earn a living and afford his studies, 31-year-old Thanh has today become a famous artist in Nha Trang, in the coastal province of Khanh Hoa.
Thanh was born to a poor family in the central province of Ha Tinh. After finishing high school, his parents could not afford for him to study further, and Thanh had to work to make ends meet.
He had a passion for painting since he was young. He interrupted his studies for two years and got admission into Hue University of Fine Arts to pursue his dream of being an artist. There, he had the opportunity to learn professional painting. Even during his school days, Thanh used to sketch portraits for tourists in Hue City.
He graduated in 2013 and moved to Nha Trang to start his career. After painting on many materials, including canvas, paper and walls, the idea of painting on stones came to him when he noticed stones with strange shapes on the bank of a river.
"Once when I had gone on a picnic with friends, I saw stones of various sizes and shapes that intrigued me and I tried to paint on them, to turn the lifeless stones into lively artworks," Thanh says.
"What can you do with your painted stones? Lots of things. Turn them into magnets, decorate your garden and home, make paperweights, write inspirational messages on them," Thanh says.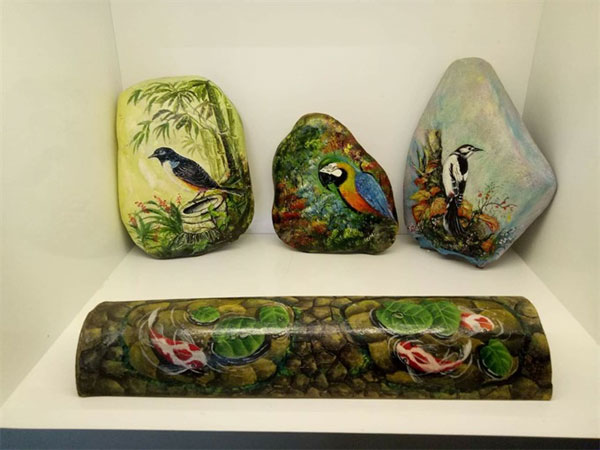 Animals: Artworks painted on stones by Dau Quang Thanh.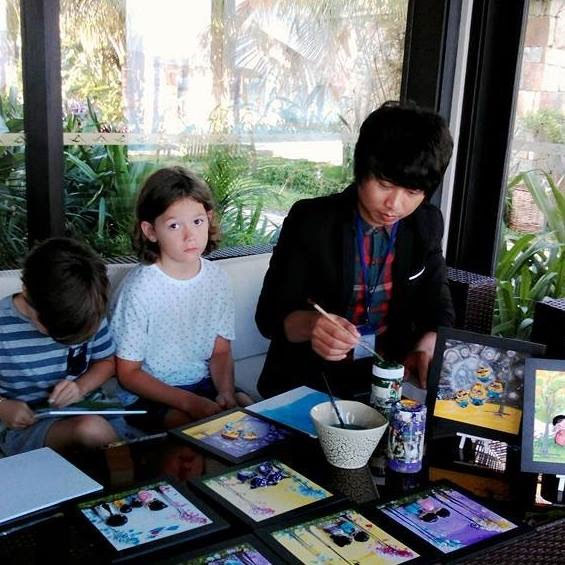 Lessons: Beside creating art, Thanh also organises painting classes for children. Photo courtesy of the artist
Colourful: An artwork painted on a stone by Dau Quang Thanh.
He soon found an endless inspiration to paint on stones, although he faced some difficulties.
"The first problem I faced was getting on well with the new material as the surface of stones is not flat and smooth," he says.
He mastered the art gradually and was able to paint on both smooth, rounded stones and rugged stones, with each stone offering a different experience and inspiration.
"Each stone is perfect and can have a different effect," Thanh adds.
He often wanders along the bank of rivers and streams to collect stones. Sometimes, he rides a motorbike to a mountainous region 50km from Nha Trang to find stones.
Though his favourite subjects are landscapes and animals, he collects any stone with a unique shape since he knows how far his imagination can drive him. 
"When I have a certain design in mind, like a cat, an owl or a caterpillar, I am on the lookout for the right shaped stone to paint on," Thanh says. "Finding stones with strange shapes inspires me to create my art."
After collecting the stones, Thanh washes them with water and soap and pats them dry. He first paints a layer of coating on the stones. Then he uses a pencil or chalk to draw small details. The main part is painting on the stones with acrylic colours. Once he finishes painting the design, he covers the stone with a coating of PU (polyurethane) glue to ensure the artwork lasts long. He uses a hairdryer to dry the paint faster.
When Thanh first uploaded pictures of his artworks on Facebook, he did not expect many takers. But he soon started receiving orders for painted stones.
"I love painting on stones because I feel close to nature," he says. "The art is unique as no two stones look the same."
Apart from painting stones following orders from souvenir shops, Thanh also paints murals for tourist sites and cafes.
by Minh Thu
Source: VNS