Saturday June 30 sees the premier of a new contemporary dance work, Café Saigon, from the HCMC Ballet, in collaboration with Gotra dance company from Maastricht in the Netherlands. An earlier performance, originally scheduled for Friday June 29, has been cancelled.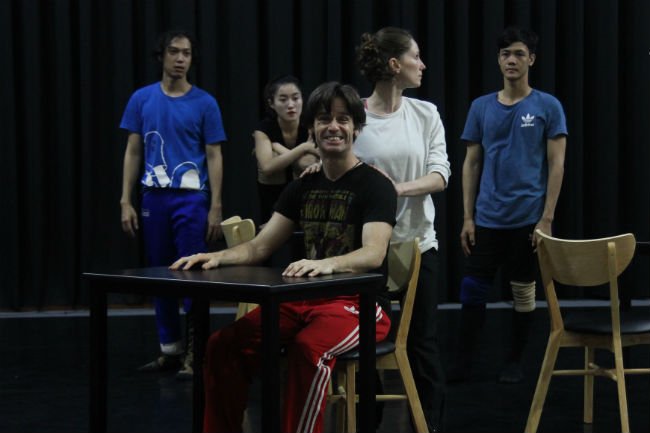 Vrouenraets (seated) and HBSO Ballet's dancers are rehearsing for their upcoming Café Saigon dance show - PHOTO: COURTESY OF HBSO
The association of HBSO Ballet and members of the Gotra company began a decade ago when one of the Saigon company's principal choreographers, Nguyen Phuc Hung, was in the Netherlands as a young dancer, and worked with one of the Dutch company's directors, Joost Vrouenraets.
They have remained in contact, and often talked about the possibility of Vrouenraets, and his colleague Maite Guerin, traveling to Vietnam and creating a production with the HBSO Ballet's dancers.
Late last year Vrouenraets visited HCMC, met the dance company, and arrangements for creating Café Saigon here were finalized.
Vrouenraets and Guerin arrived in HCMC in the second week of June to begin work on the new production.
Gotra is based in Maastricht, and works these days on a production-by-production basis. Vrouenraets and Guerin form the hub, and individual dancers are recruited for each production, such as the one currently touring with five dancers.
Maite Guerin, like Vrouenraets, is both a dancer and a choreographer. She was artistic director of a highly innovative program called Care to Dance? for people suffering from Parkinson's disease.
From the 16 dancers regularly present at HBSO Ballet's daily rehearsals, ten were selected, five men and five women, to make five couples for the eventual show.
Café Saigon will be assembled from the items of work currently in progress under the direction of Vrouenraets and Guerin. The two Dutch directors, though very active as dancers in rehearsals, will not themselves appear in the final production.
The imagined location of the new work is a Saigon coffee-shop some half century ago. Last week Joost Vrouenraets and Nguyen Phuc Hung were busy scouring the city for furniture of the correct period, even though Vrouenraets said the planned work would be only partly realistic. The other part, he said, would be surrealistic. Meanwhile, Saigon choreographer Nguyen Phuc Hai was working on the set design.
The music for the production will be eclectic. Some highly rhythmic sound effects were in evidence at a rehearsal, and in addition there will be items of Vietnamese ethnic minority music, plus at least one song from the 1960s U.S. singer-songwriter Joan Baez.
"I really love Vietnam," Vrouenraets said. "It's completely different from anywhere else in Asia, from Japan, Nepal or, say, Tibet. The Vietnamese are so open to innovation. These dancers take to new music, and to new dance ideas, without the slightest hesitation, and indeed with enthusiasm. I don't know anywhere else in Asia where this would happen.
"Vietnam has always fought for its independence, and it has never lost it," Vrouenraets added. "The same feeing can be experienced in Saigon's cafes. People go there to find a kind of freedom, and to escape from things that don't really matter.
"At the same time the young have a sort of nostalgia, which is why we are setting this new dance piece somewhere in the middle of the 20th century."
With Gotra's unusual dance rhythms, and the strong association with Vietnam, Café Saigon is certain to prove both a highly original, and a dramatic and memorable, experience.
Bradley Winterton
SGT