VietNamNet Bridge – Authorities in Ninh Binh Province have agreed to extend the deadline for dismantling the construction of an illegal walkway on Cai Ha Mountain, inside the UNESCO heritage site of Trang An, until June 15.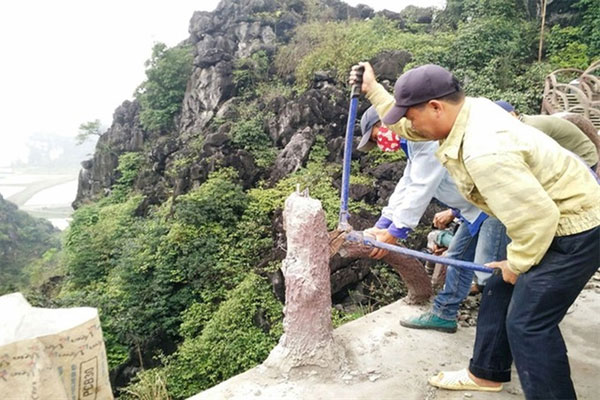 Take it down: Workers remove a part of the illegal walkway built by Trang An Tourism Company on Cai Ha Mountain. The company has asked for an extension to the deadline until June 15. — VNA/VNS Photo Duc Phuong
Trang An Tourism Company, which initiated the construction, twice promised to completely remove the walkway in May but only 50 per cent of the construction had been removed as of May 31. The company asked for an extension of the deadline until June 15.
The handrail, the bridge between two mountains and many steps have been removed at a slow pace. However, the construction built inside the banned area of Cai Ha Mountain hasn't been touched.
The company explained the slow pace had resulted from hot weather and the dangerous locations of the work on the mountain.
"If Trang An Tourism Company hasn't removed the walkway by the new deadline, we will direct our forces to remove it according to the law," said Dinh Chung Phung, vice chairman of the province's People's Committee.
Trang An Tourism Company last August cut into Cai Ha Mountain and constructed a staircase leading up to Huyen Vu Peak. The staircase runs a length of over 1km with 2,000 steps and handrails on both sides to serve tourists.
The company has also constructed supporting facilities like public toilets.
The construction was almost completed after six months and has been open to visitors since this year's Tet (Lunar New Year) holiday.
Ninh Binh Province's Tourism Department reported and asked the provincial People's Committee and Hoa Lu District's People's Committee to deal with the violation and remove the walkway. However, the local authorities had been reluctant to deal with the case.
Nguyen Van Son, director of Trang An Tourism Company, promised to remove the walkway by April 30 and then asked for the deadline to be extended to May.
The Trang An Landscape Complex was listed among World Heritage sites by UNESCO on June 23, 2014.
The complex, a mixed cultural and natural property, covers more than 6,000ha with three areas including the Hoa Lu Ancient Imperial Capital, which was chosen by various kings of the Dinh, early Le and the beginning of Ly reigns between 968-1009; the Trang An – Tam Coc – Bich Dong rivers and karst mountains site and Hoa Lu Primitive Forest stretching over the districts of Hoa Lu, Gia Vien, Nho Quan, Tam Hiep Town and Ninh Binh City in Ninh Binh Province.
Source: VNS