A Vietnamese representative at the Memory of the World Committee for Asia and Pacific (MOWCAP), has been re-elected as Vice Chairperson of the committee.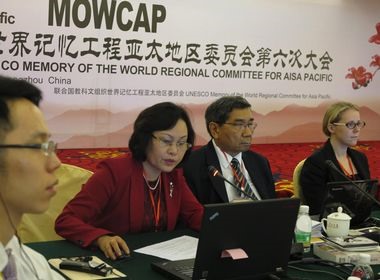 Dr Vu Thi Minh Huong (second in red) at a MOWCAP meeting in China. — File photo archives.gov.vn
Vu Thi Minh Huong held the position from 2014-2018 and will now continue in the role for four more years.
The election took place at the eighth General Meeting in Gwangju, South Korea on Thursday.
The MOWCAP official, a former director of the State Records Management and Archive Department of Viet Nam, has a master's degree and PhD in history.
She has also worked as co-ordinator and manager of many of UNESCO's Memory of the World programmes.
Huong made a large contribution to strengthening the co-operation in the archives sector between Viet Nam and France as well as teaming up with other international archives organisations.
MOWCAP, an agency controlled by the International Advisory Committee (IAC) under UNESCO, was set up in 1998 in Beijing, China.
It is in charge of the operation in the Asia-Pacific region which includes 43 countries.
The region is one of the five areas of UNESCO's activities worldwide.
It's many libraries, archives and research institutions face formidable challenges relating to the economic crisis, climate change and geographical differences.
MOWCAP aims to assist with preservation and universal access to the documentary heritage of the Asia-Pacific region, and also to increase the awareness of the existence and significance of the heritage.
The General Meeting was held once every two years to establish policies and activities, and make decisions about the programmes submitted by the MOWCAP Bureau.— VNS