VietNamNet Bridge – The cultural diversity of ethnic groups in the northwestern province of Son La will be highlighted at the Liberation Day (April 30) celebrations at the Viet Nam National Village for Ethnic Culture and Tourism in Son Tay Town, Hanoi.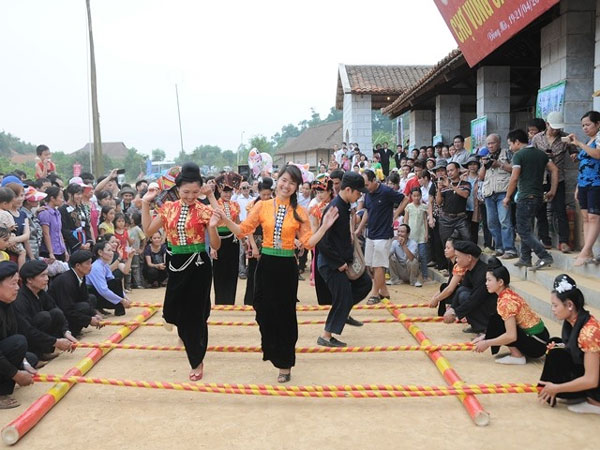 Traditional: Ethnic people perform bamboo dancing at the Viet Nam National Village for Ethnic Culture and Tourism in Son Tay Town. — Photo courtesy of the village
A wide range of cultural activities will take place from April 28 to May 1 featuring the cultural traditions of ethnic groups residing in Son La Province such as the khen (panpipes) festival of the Mong, the art of making pieu (embroidered scarves) of the Thai and Xen Cung festival of the Kho Mu.
Xen Cung is the important festival due to its scale and spiritual meaning in the Kho Mu Community. It preserves the unique traditional culture of the Kho Mu, in which they perform rituals to pay gratitude to the ancestors and organise games to strengthen solidarity in their community.
Pieu, the traditional scarf of Thai women, is not only a kind of accessory but also a cultural symbol of the Thai people. Each scarf tells a story about the wearers' feelings and character through patterns and colours.
No matter how the life of the Thai has changed, the traditional art of weaving pieu is still preserved, reflecting the aesthetic sense of Thai women.
The scarf's patterns feature animals such as deer, butterfly, bird, elephant and tiger, the moon, and trees such as fern. These same patterns are also seen on the hems of Thai costumes.
Researcher Luong Van Thiet from the Viet Nam Museum of Ethnology said the skill of making pieu reflects the woman's talent and character. Thai men seek partners based on their ability to decorate and embroider pieu.
Traditional markets in the mountainous region will be recreated during these days as a highlight of the festival. The markets are an important cultural practice of the ethnic groups, according to Lam Van Khang, head of the management board of the village.
"It's a place for people to exchange goods and perform cultural activities. It's also a rendezvous for young men and women to date and get acquainted," he said.
Accordingly, traditional foods and products of Mong, Dao, Thai, Muong, Kho Mu and Tay will be introduced together with folk games and artistic performances. The ethnic people will perform their skills in making traditional handicraft. Son La Province is the home of 12 ethnic groups including Thai, Kinh, Mong, Muong, Dao, Kho Mu, Xinh Mun, Nung, La Ha, Ha Nhi, Tay and Hoa. Of these, the Thai are the largest community in Son La accounting for 54 per cent of the population. 
Source: VNS