The music licensing company Sky Music has been accused by many musicians at the Vietnam Centre for Protection of Music Copyright (VCPMC) of using their songs without permission.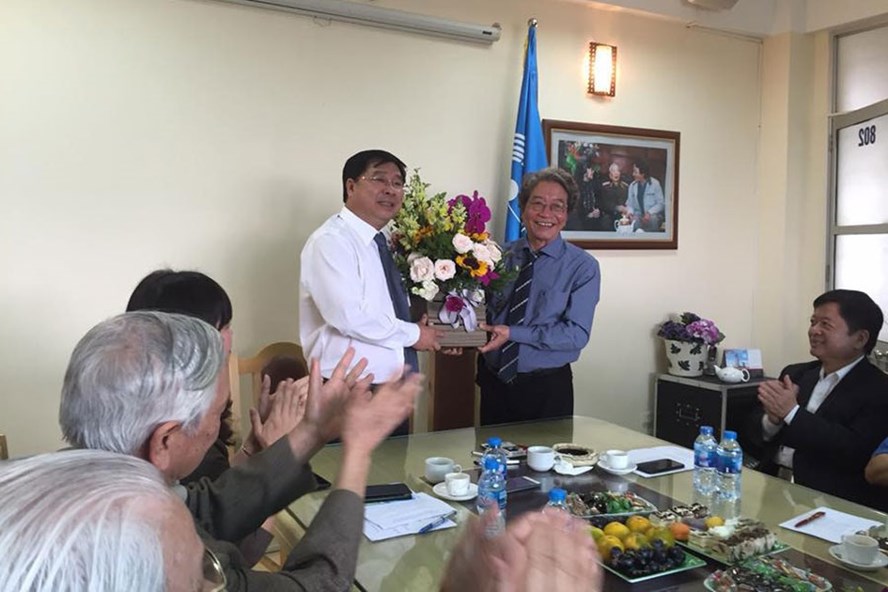 VCPMC Director Dinh Trung Can and songwriter Pho Duc Phuong (left to right)
Sky Music Company was established in 2013 with aims to bring copyrighted music to the audience and fair pay to musicians. The company is considered an alliance of various popular music websites, channels and retail stores. 
However, the VCPMC said they had recently found hundreds of unlicensed songs used by Sky Music.
Songwriter Nguyen Van Chung vowed to go to the ends with Sky News, saying that 50 of his songs and 135 with related rights were used but he has never been asked for permission. Songwriter Hoai An also said 192 songs he wrote were put up on Sky Music's websites without permission.
Songwriter Tran Minh Phi said he had 20 songs uploaded to Sky Music's websites. If this case is not going to be strictly dealt with, it will set a bad example for other people. 
"At first, I didn't want to say anything because, frankly, I was tired of such situations. But Sky Music didn't apologise and even wanted to sue us for slander. Sky Music said they only signed the contract with the singers but those songs belong to us. Only when I sell or give away those songs to the singers then they don't have to work with me," he said.
Many other songwriters including Pho Duc Phuong, Hoai An and Truong Ngoc Ninh also said their songs have been used without permission.
The southern branch of VCPMC said they had sent an official letter to warn all of their members on January 3. According to the VCPMC, Sky Music only acquires related rights when signing contracts with singers. Organisations and individuals who commercialise a product with creative rights must ask for permission and pay the creators. 
However, Nguyen Van Chung, Director of Sky Music, claimed the songwriters owned the songs and the singers owned the recorded version. The singers have the rights to allow others to distribute the recorded version.
According to Chung the songs were on NCT Company's nhaccuatui.vn. Sky Music have paid for owners of all recorded versions and NCT Company must pay for songwriters via the VCPMC.
Dtinews