An exhibition at Hanoi's Goethe Institute gives visitors a chance to see photos by this year's New German Photography competition award winners.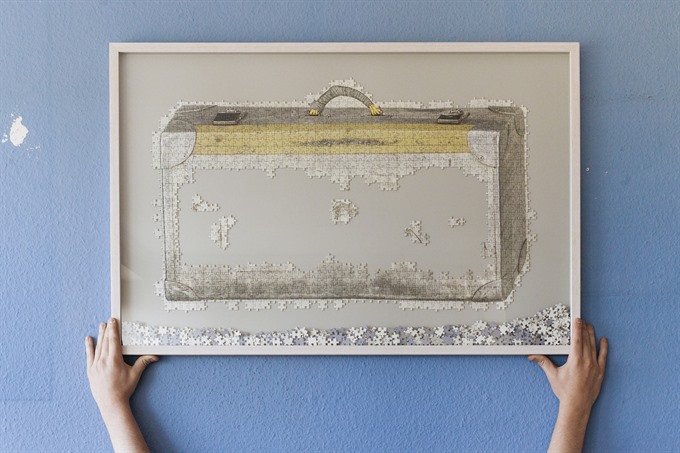 Outside the box: A photo by Julian Slagman, one of eight winners in the 2017/2018 awards. — Photo Hanoi Goethe Institute
The exhibition features 53 works by eight winners in the competition for young photographers in Germany for 2017 and 2018.
"New German Photography is the most prestigious competition for young photographers in Germany," said Rebecca Sampson, the 2011 winner at a press conference held on Wednesday.
The award-winning photos have been exhibited in Germany each year since the competition's launch 15 years ago, but this is the first time photos from the competition are on display in Hanoi. The winners, who are selected by a jury of well-known experts, can look forward to broad public exposure through a wide range of exhibitions, promotional campaigns and media interest, she said.
New German Photography was set up in 2004 by Josefine Raab and Stefan Becht as a private initiative in support of talented young photographers. The annual competition is the core activity of the project. Each German university and academy offering a photography degree course is eligible to nominate five projects to enter the competition.
Each award-winner tells a different story for audiences to share.
A Japanese woman who lives in Germany re-constructs the stories of Japanese and German families; a collector of images whose family originally came from Holland describes photography as a member of his family and the son of Portuguese parents who was born in Germany examines Portugal by following his childhood memories "from the back seat."
A photographer who was born in rural Germany sets out in search of the future; an artist who was born in Uzbekistan but has been based in Germany since she was twenty focuses on Germans whose parents are immigrants and who do not appear to be archetypically "German."
An alchemist reveals the magical world of an everyday object in her dark room; a young man looks for images to express the unspeakable; a young woman shows us how our reality is constructed in an almost painful way.
Photographer Sampson and her colleague Jewgeni Roppel will introduce the exhibition at 10.30am and 2.30pm today.
Sampson, a 2011 award-winner, was also the winner of the New German Photography Deluxe 2017. Her photos have been exhibited in Europe, India, Mexico and the US.
Roppel was an award winner of New German Photography 2015 and 2016. Since 2009, his works have been exhibited in 65 solo and group exhibitions in Asia, Europe, the Middle East and the US. Roppel contributes to several magazines, such as Die Zeit, Der Spiegel and Camera Austria.
At the same time, the award-winning photos are also held at the House of Photography in Hamburg.
The exhibition will run until April 22 at 56 Nguyen Thai Hoc. — VNS