Some leading hotels in the central city of Danang and Quang Nam Province are putting on special food programs on the occasion of the upcoming Easter Day on April 1.
Easter Chinese Brunch Buffet at Grand Mercure Danang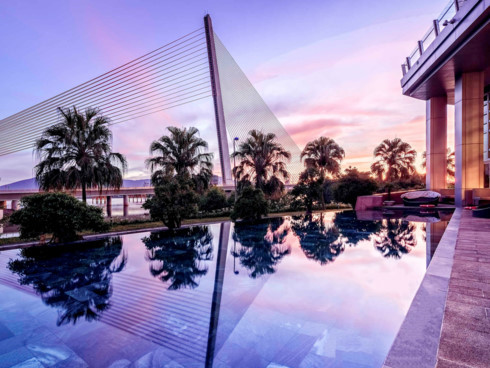 On Easter Sunday, April 1, Golden Dragon, the Chinese restaurant located on the second floor of the Grand Mercure Danang, will hold a special Chinese Brunch for diners to celebrate in style with family and friends. Golden Dragon restaurant will excite patrons with the sights, smells and tastes of gourmet Cantonese specialities.
The restaurant's all-you-can-eat buffet includes refreshing Vietnamese salads, pecking duck, roasted pork, crispy roast pork, hot pots, baked noodles, soups and a wide range of Dim Sum favorites.
Besides, in the middle of the Golden Dragon Restaurant is the dessert counter, offering a mouthwatering selection of delicious delights, including chilled almond jelly with lychee, banana sago in coconut milk, sesame balls, egg tarts, sliced fresh fruits and so on.
Easter season with kids at The Nam Hai
Four Seasons Resort The Nam Hai in Hoi An is welcoming kids to its Chuon Chuon Kids' Club to celebrate the Easter season with various activities, from egg decorating and bunny headband crafts to a bunny-themed kids' party on April 1 complete with magic show, balloon artist and Easter themed snacks and treats.
Besides, from March 30, it's all about "Easter Feasters" with three days of creative cuisine. Kicking off the celebrations, March 30 brings a seafood beach buffet: a lantern and fire-pit lit evening of live music, seafood ice bar including lobster, crabs, and prawns; and live cooking stations hosted on the Resort's gorgeous stretch of Ha My beach.
Visitors are also advised to head to the La Sen on March 31 for a sensational Street Food Night featuring Easter specialities including Egg Yolk Banh Bao, Stuffed Winter Melon from onsite Vegetable Farm, and a Vietnamese Chocolate Corner sourcing free-trade cocoa beans from farmers in Southern Vietnam.
Easter Sunday at Novotel Danang
On April 1, guests can discover a Choco-transformation of Sunday BBQ and celebrate Easter at the Novotel Danang Premier Han River Hotel.
Feast on an extensive chocolate dessert buffet and other delicacies, chocolate cocktails are on the menu as well as cacao flavored dishes.
Children will go wild with the original live-chocolate show-time done by chefs as well as with the Easter egg hunt and its winning prizes.
Saigon Times