VietNamNet Bridge – Taiwanese artist Nana Chen's first solo exhibition entitled Discarded is open at Heritage Space, featuring a series of large size photos in an ongoing project by the artist in HCM City.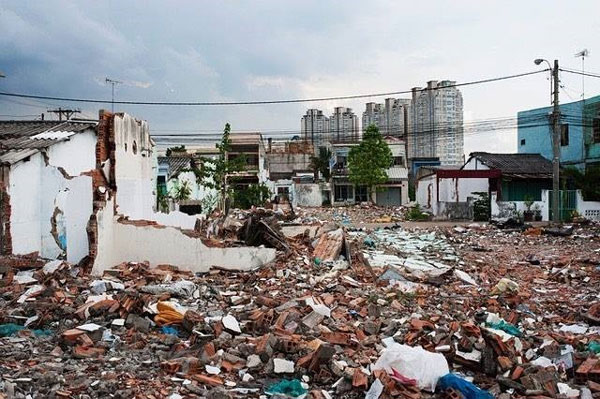 Detritus: A photo taken by Nana Chen.
About 12 photos measuring 180cm by 120cm were taken by Nana from 2011 to present in District 2 in HCM City, where the artist currently lives.
"Looking at urban change and displacement I seek to document the debris left behind by inhabitants when they evacuate their domicile," said Chen. "The wall, pieces of cloth, curtain, teddy bear, armchair have been handled, grasped, touched, existed in behaviour, dreams, memories, are an organic part of material life and belong in somebody's consciousness. Could it be that humans have been sentenced to exile part of their own memory?"
As a person with a multi-disciplinary interest of architecture, interiors and music, Chen saw the poetic factor of the abandoned areas of the city. The scene lies in the still loneliness, the invisible quiet motion of the invisible objects such as a old grimy teddy bear or a manequin's arms and head rolling in the garden.
The images that seem meaningless reveal part of a dark corner, some blurred region of the urban vignette, and the vast empty space of the human mind.
Chen is a Taipei-born photographer whose work has been published in The Observer, AFP, Marie Claire, Esquire, D-la Repubblica, SCMP and other publications.
Her recent projects include an ongoing portrait series of Thai transgender women in mainstream occupations, Nocturne: Bangkok's Chinatown at rest; Chungking Mansions: the last ghetto in Hong Kong and a portrait series on Vietnam's billionaire women. Her photographic subjects include themes on identity, displacement and subcultures.
She currently divides her time between HCM City, Bangkok and Europe.
The exhibition will run until March 25 at Dolphin Plaza, 6 Nguyen Hoang Street, My Dinh 2 Ward, Nam Tu Liem District. Artist tour will be held on March 25 from 10am to 12pm and from 3pm to 5pm. 
Source: VNS