VietNamNet Bridge – The Vietnamese Women's Museum opened an art exhibition by female artist Van Duong Thanh yesterday to mark International Women's Day.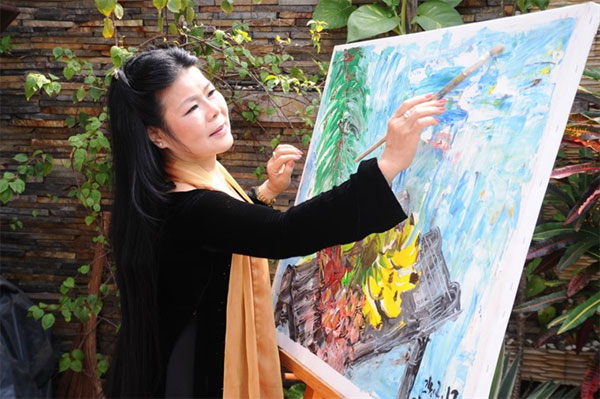 World-renowned: Van Duong Thanh is well known as one of Asia's talented international artists. — Photo courtesy of the artist
The exhibition showcases 35 paintings, the oldest painted in 1977 and the latest on the Lunar New Year of Dog, selected from 1,700 artworks created by Thanh.
Though they are created in different materials such as lacquer, oil on canvas and sculpture, they share the same inspiration in Mother and Nature.
Thanh's paintings are created with a combination of Vietnamese and Western techniques.
The harmonious composition of vibrant colour distribution, emotion and touches of impressionism, expressionism and semi-abstraction makes her paintings apparently unique in recognition.
Well known as one of Asia's talented international artists, Thanh grew up in Hanoi and studied for twelve years at l'Ecole de Beaux Arts, Indochine and at the Academy of Fine Arts.
She now divides her time between Sweden, where she teaches art, and Hanoi. Many of her exquisite artworks are on permanent display in National Museum of Art in several countries including Vietnam, Thailand, Singapore, Hong Kong, Spain and Sweden.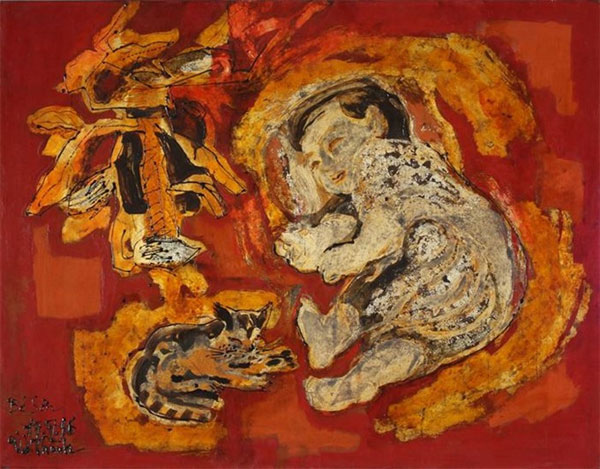 Long career: Child and Cat, the painting was created in 1977 expressing artist's love for her son.
Speaking at the opening ceremony of the exhibition, Saadi Salama, Ambassador of Palestine to Vietnam, said he has been a friend of Thanh for 38 years.
"Thanh is known in the world as a remarkable artist of Vietnam. Her paintings are displayed at museums and collections worldwide. She always has a strong attachment to the origin and her root no matter where she is."
"Her paintings recorded the history of the country's development," said Salama.
"Thanh represents Vietnamese women who always fight and work to introduce the Vietnamese soul and intelligence to the world."
A workshop to exchange experiences between the artist and researchers, young painters and art students will take place on March 24 in conjunction with the exhibition.
The exhibition will run until May 8 at the Vietnamese Women's Museum, 36 Ly Thuong Kiet Street, Hanoi. At the closing ceremony, a fashion show featuring ao dai (traditional long dress) imprinted with Thanh's paintings will be organised. 
Source: VNS