VietNamNet Bridge – Young people are taking part in special projects that replicate traditional Vietnamese clothes worn by royalty of various dynasties.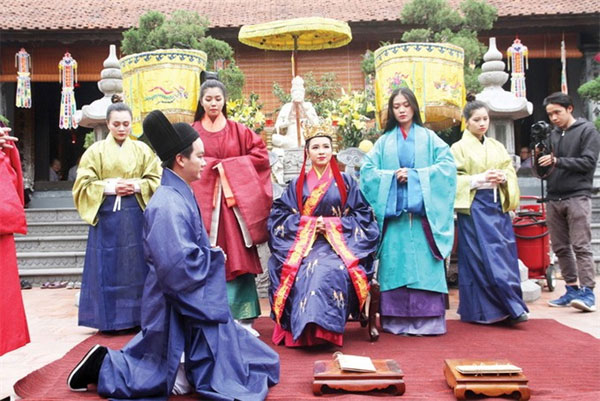 Ancient threads: Vietnamese clothes at the showcase of the coronation of the Queen Mother under the later Le Dynasty (1437-1471). The event is part of the project Det Nen Trieu Dai (Sewing the Reigns) which makes traditional costumes worn in the later Le Dynasty. (Photo by Phuong Chinh)
The project Det Nen Trieu Dai (Sewing the Reigns), which makes traditional costumes worn in the later Le Dynasty (1437 to 1471), was created to help Vietnamese students at home and abroad learn more about the country's history and culture.
It was launched by the Viet Nam Centre, a non-profit organisation established last year by a group of Vietnamese-Australian students.  
"Our project is not about clothes or hats. It's about culture. Through our work, we hope to introduce Vietnam, its history and culture to the world," said Le Ngoc Linh, co-founder of the centre. 
Linh and her staff have researched many Vietnamese and Asian documentaries, books, paintings and sculptures.   
They have also worked with cultural researchers and historians, including literary researcher Tran Quang Duc, author of Ngan Nam Ao Mu (Thousands of Years of History of Viet Nam's Traditional Costumes), a book on the history of Vietnamese clothes which was released in 2013.   
Their first display of their productions, introduced in December in Hanoi, included dozens of clothes used for the royals.
A showcase of the coronation of the Queen Mother under the later Le Dynasty has also been revived. 
"We spent two weeks making a dress for a eunuch and four months for a coat for the Queen. Each costume is worth around VND30 million (US$1,300)," said Linh.
"The performance by Linh and her staff left a very strong impression on audiences," said Nguyen Duc Loc, who visited the show.
Loc is a member of the Dinh Lang Viet (Vietnamese Communal House) Group, a Hanoi-based community keen on preserving the ancient values of communal houses.
The group was launched in 2014 and has attracted more than 4,000 members. It has organised many exhibitions, showcases, talk shows and art camps featuring traditional Vietnamese culture and lifestyles, aimed at students and young people.
The group's latest event was held early this month as a platform to showcase the traditional customs of the Vietnamese Lunar New Year festival in Hanoi.
The event included traditional worship and a ceremony to erect cay neu, a tall bamboo tree, in the house's yard. 
The bamboo pole is stripped of its leaves, except for a tuft on top so that it can be wrapped or decorated with red paper for good luck. Bows, arrows, bells and gongs are placed on the treetop with the hope that bad luck of the past year is chased away and everyone will have a happy New Year.
The event attracted more than 30 artists in various fields. 
In HCM City, Nguyen Thi Kieu Diem, a graduate of Hoa Sen University in the city, has released a book of paper-crafted figures about costumes used in tuong, a Vietnamese classical drama originating in the 12th century.
Her book, Hat Boi Hnh Toi Nguoi Ta (Singing Tuong Fascinates People), contains seven colourful papercrafts and explanations about tuong and its costumes used in various performance styles.
Papercraft uses paper or cards to create three-dimensional objects that can be folded, cut, glued, molded, stitched or layered. They depict tuong artists on stage, who wear make-up and wear beautiful costumes.
"I spent four hours and a half making a template. However, writing the explanations was the most difficult job," said Diem.
Diem used information from three books on tuong written by cultural researchers Nguyen Vinh Hue, Ly Tuan Khac Dung, Nguyen Loc and Vo Van Tuong.
"I hope young people will improve their knowledge and love for tuong through my book," she said. 
Source: VNS