VietNamNet Bridge – With the new year season coming around, cai luong (reformed opera) performers in HCM City are releasing new and catchy music videos after a long slog in the studio.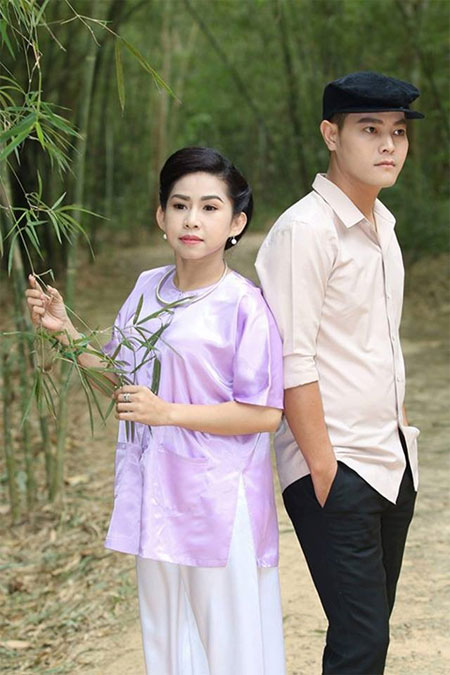 With audience tastes changing rapidly, cai luong artists are now willing to splurge on creating visual spectacles. — Photo Thanh Hiep
In Binh Tinh's Oan Gia Ngang Trai (Family Game), a group of young artists dressed in traditional clothes sing and dance in a room as veterans stand in the middle.
Tinh, one of cai luong's stars, appears for the first time in a video after scores of audio releases.
Her video features family issues. 
Before launching her video in HCM City, she said: "I spent VND300 million (US$13,000) shooting my new production. I worked many hours every day with my producer, fashion stylist and choreographer to combine my art with beautiful images.
"I wanted my MV to be ready to take on the fierce competition in the industry," said the 36-year-old, who shot to fame when she was just 16, three years after she began to perform professionally.  
The trailer of her video on Youtube had attracted more than 3,000 views, many of them young people, who raved about the visuals.
Oan Gia Ngang Trai is set to be released next week.
Tinh is not the only one focusing on visuals. More and more cai luong artists are going down the same road, using dazzling images together with complex orchestration.
People's Artist Bach Tuyet, a cai luong guru, had made waves with a new MV last November.
In Em Gai Mua (Rainy Girl), Tuyet creates a cai luong version of a 2017 hit album by young pop star Huong Tram. 
Her MV subsequently attracted more than 19,100 views on YouTube.  
"Cai luong, a very unique and old genre of traditional theatre in the south, should change to meet the tastes of young audiences," said the 73 year-old, who has been in the art for more than 60 years.
"I love cai luong after viewing Tuyet's Em Gai Mua in the cai luong version," said Tram, 21. 
Earlier this month, young artists Vo Minh Lam, Phuong Hang and Tuan Canh also released videos that attracted thousands of fans on YouTube and online music channels. 
HCM City Television's HTV 3 and 9 channels have attracted large audiences by showing young cai luong performers who want to be as meticulous as pop singers when making their albums.
Many MVs featuring cai luong are being shot at famous tourist locations and produced by experienced crews.
Veteran artists like Ngoc Giau and Kim Tu Long are no exception to the trend. They have invested a lot in their new albums, appealing to fans with their unique voices and dancing, and their videos that resemble movies.
Lam, who is with the Tran Huu Trang Cai Luong Theatre, said: "We learn from young artists, who produce quality MVs to attract youngsters. We hope our MVs will take cai luong to audiences worldwide." 
Source: VNS