VietNamNet Bridge – Sitting between numerous fingerprints printed on Korean hanji paper, clothes and mica, artist Vu Bach Lien danced and moved to symbolise the motion of the universe.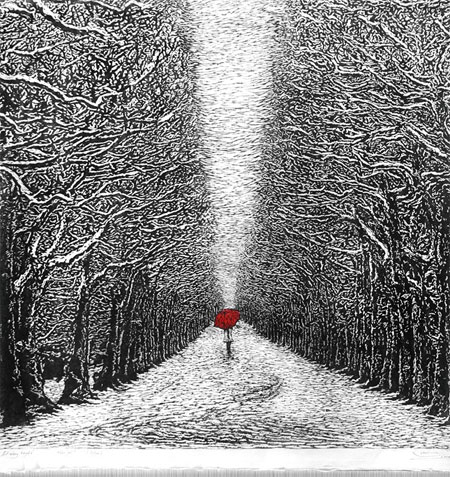 Chilly: Road of Snow, graphic art by Vu Bach Lien.
The performing art piece entitled In the Human Realm opened her solo exhibition Life yesterday at the Viet Nam Fine Arts Museum in Hanoi.
Lien sits in the middle of the stage, surrounded by 1,900 fingerprint artworks that she collected from different people for many years for her project Life.
"The universe circulates like a dance of a madness and fantasy," said Lien.
The artist lurks herself and swirls along the rhythm of the mundane world. Though her reflection is still connected to reality, she maintains her own calmness and stability in order to remain unique and apart from the world of the common and the drab.
The performance will take place from 9am-11am and 2pm-4pm on March 2-6.
In this exhibition, Lien showcased 19 printed artworks including two large-sized (2m long) artworks that are engraved with fine, detailed graving strokes: "Winter Is Coming" and "Summer is Coming" in a project called The Four Seasons.
Another highlight of the exhibition is They - A Part Of My Life (2m by 2m) which collects ten thousand fingerprints from people that she had met in her life, and arranges them to create her own portrait.
"Through her artworks and performance, Liên showed people her strong energy in creative and manual works," said Le Huy Tiep, president of the Graphic Art Council of the Viet Nam Fine Arts Association.
 "She uses the basic expression language of the art of printing artwork, which is black and white, combined with one or two supporting colours to create her artworks. With either simple or complicated artworks, Lien always puts effort into every single detail in order to create the harmony of the carving and bring up the final ideas of the works."
Tiep remarked that Lien's success comes from knowledge acquisition and the selective and sincere uptake of new trends and skills.
"Technical skills take an important role in printmaking. The medium asks artists to be serious and careful in the process of making, from ideas to the texture-making process, to the sketches to the final print, both details and technique needs to be planned carefully. In printmaking, things cannot be undone if something goes wrong."
"One cannot be a printing artist without patience and self-discipline," said Tiep.
"With her passion for exploring and experimenting with a variety of textures and printmaking types, we have reason to believe in Lien's future, who will contribute to the Vietnam art industry for she is a powerful artist with great potential."
Ten years ago, artist Lien had an exhibition called Self Look Into and a year after that, she first started doing monoprint. The exhibition included artworks that mainly are monoprint and digital art. The exhibition introduced a new perspective on the life of a young woman, her worries and her emotions hidden behind her own ego. Though it was her first exhibition, she impressed the public by questioning the concept in her own way.
In this exhibition, the artist introduces Life which is created by the language of texture and diversity of forms; ranging from monoprint, lithograph printed on stone, zinc, photolitho, wood carving to performing art.
"I found that fingerprints are a lively expression of each personality, which look like special and mysterious symbols that can't be mixed up with other things," said Lien.
"Fingerprints have a structure of a maze that each one has to discover for him or herself. That's the reason why I find inspiration from people's fingerprints and the exhibition Life is a part of my Life project."
Artist Lien was born in 1976 in Hanoi. She has participated in solo and joint exhibitions at home and abroad since 2006. Her artworks are presented at private collections and museums in South Korea, Vietnam, Norway, the US, Thailand and Malaysia.
The exhibition will run until March 6 at the Viet Nam Fine Arts Museum, 66 Nguyen Thai Hoc Street, Hanoi.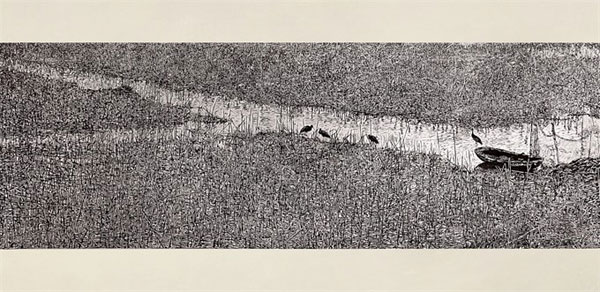 Not Game of Thrones: Winter Is Coming, woodprint by Vu Bach Lien.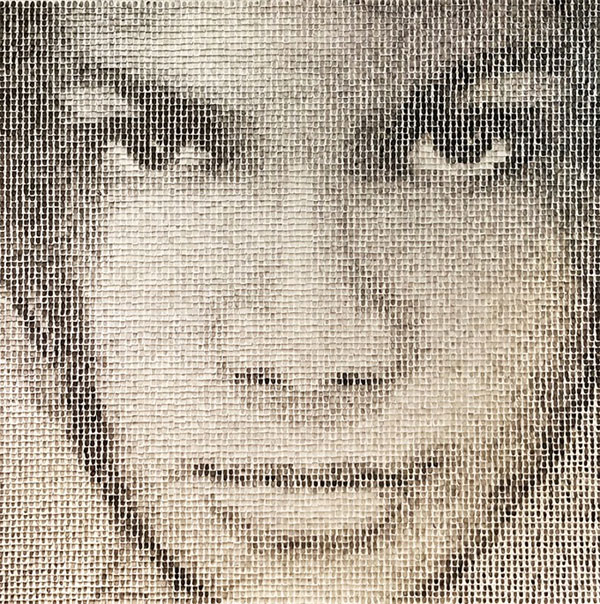 Altogether now: They - A Part Of My Life (2m by 2m) combines ten thousand fingerprints of people artist Vu Bach Lien met in her life to create her own portrait.
Source: VNS