A Bugarian rose festival – the second of its kind – will kick off next week in Hanoi's Water Park near the West Lake, organisers have said.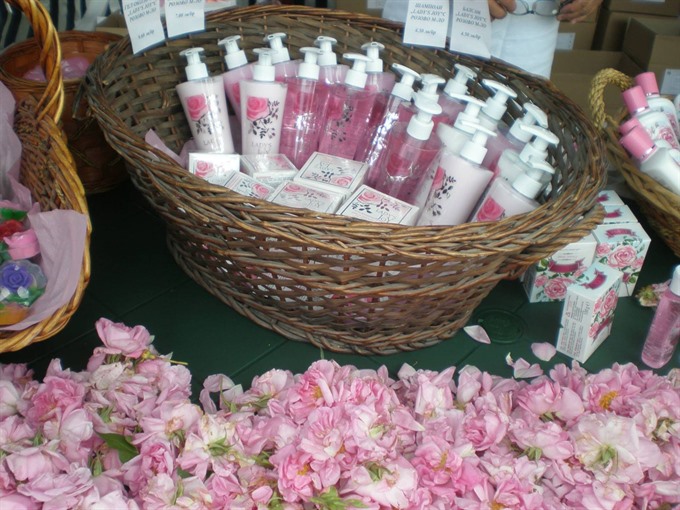 A variety of rose products including rose fragrances will be displayed at the 'Bulgaria Rose Festival with Friends 2018'. — Photo lehoihoahong.com
'Bulgaria Rose Festival with Friends 2018' will be held from March 8 to 11 by the Embassy of Bulgaria in Viet Nam and the Agricultural Genetics Institute (AGI) under the Ministry of Agriculture and Rural Development to celebrate the National Day of Bulgaria, which falls on March 3, and the 68th anniversary of the establishment of diplomatic relations between the two countries.
Activities planned for the event include an exhibition of rose trees featuring different varieties of roses, cultural and art performances including traditional street festivals and customary performances of both Viet Nam and Bulgaria, a parade of roses, music and food events.
There will also be Queen of Rose beauty contest, a contest for the most beautiful rose, rose dancing, an atmosphere of nostalgia for Bulgaria for those who have worked, studied and lived in the country, street music and magic performances.
Professor Pham Xuan Hoi, director of the AGI, told Viet Nam News that a collection of more than 1,000 Bulgarian roses trees had been imported to Viet Nam and are being preserved at the AGI in preparation for the event.
The festival will also attract the participation of Vietnamese rose gardens' owners and rose trading companies to exhibit their products such as those from Xuan Quan garden in the northern province of Hung Yen, the Rose Park Company, the Grin House, the West Lake flower valley and Thăng Long bonsai group, according to the official.
Hoi said displayed rose flowers and trees would especially include many Vietnamese varieties which have been grown for dozens of years.
He said that visitors would have the chance to admire the blossoms of a 200 year-old rose tree at the centre of the festival.
Roses displayed at the festival would be decorated or used to modify artistic works such as houses or European-style gardens, organisers said.
Bulgaria has been famous for rose festivals in the Rose Valley for centuries. Since 1903, this traditional festival has been held on the first Sunday of June and attracted millions of tourists from all over the world. In 1971, it became a national festival.
Organisers said this rose festival would be an improvement over last year, when visitors complained that the number of roses had not met their expectations.
They said the participation of Vietnamese rose gardens' owners and rose trading companies to exhibit their products is one of the improvements.
Last year, opinions were divided on the quality of the festival. Some people expressed their disappointment on its opening day, as they had expected something grander.
Many viewers said that instead of admiring a lot of roses from Bulgaria, they saw many fake roses. — VNS