Heritage Space continues its monthly concert series Beyond Sound on Friday night, featuring the "hottest" generation of Vietnamese experimental musicians and international guests.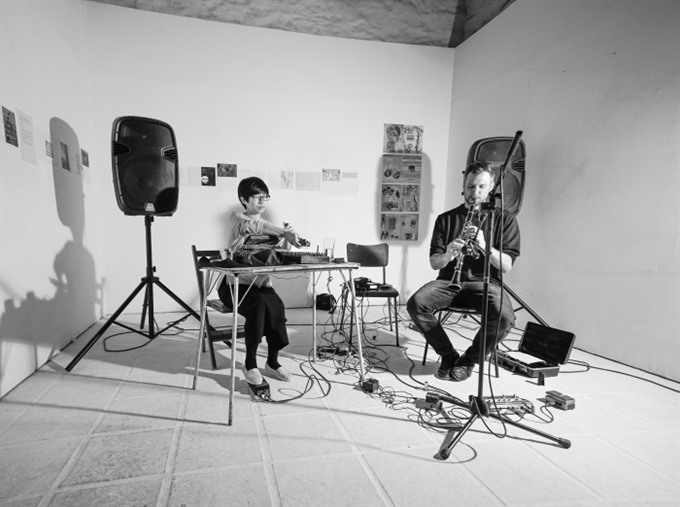 Experimental: Austrian-Vietnamese duo Siedl Cao performs Zicla at Casa Mario, Montevideo, Uruguay. The duo will present their new work Parallel Asteroid at tomorrow night's concert at Heritage Space. — Photo siedlcao.com
At the first show of the new lunar year, which will take place from 8.30-10.30pm, the audience will have the chance to enjoy live music performances by Japanese saxophonist and video artist Katsura Yamauchi.
The night will also feature Parallel Asteroid, a new work by the Austrian-Vietnamese duo Siedl Cao consisting of Vietnamese versatile artist Cao Thanh Lan and Austrian clarinet and saxophone artist Gregor Siedl. The two artists have collaborated to present electro-acoustic compositions and composed improvisations for prepared marxophone, clarinet and electronics.
Tomorrow's repertoire will also include some improvised musical performances by emerging Vietnamese experimental musicians such as Thuy Dung on đàn tranh (plucked zither), Huong Nguyen and Thanh Tam on objects, Nguyen Viet on saxophone and Nguyen Do Minh Quan on electronics.
Beyond Sound is a series of concerts of experimental music aiming to reveal the latest works of Vietnamese and foreign composers and musicians. The programme is curated and organised by Heritage Space and Dom Dom – the Hub for Experimental Art and Music.
Tickets cost VNĐ100,000 (including one drink), VNĐ80,000, and VNĐ50,000 (for members and students). For more details, please contact 0902826769 (9am-5pm) or email hello@heritagespace.com.vn. Heritage Space is on 1st floor, Dolphin Plaza, 28 Tran Binh Street, My Dinh District. — VNS