VietNamNet Bridge – Famed Vietnamese composer Hoang Van died Sunday, aged 88. His son, conductor Le Phi Phi shared his deep sorrow in a Facebook status, saying he was working abroad when his father passed away and would return to Vietnam for his father's funeral.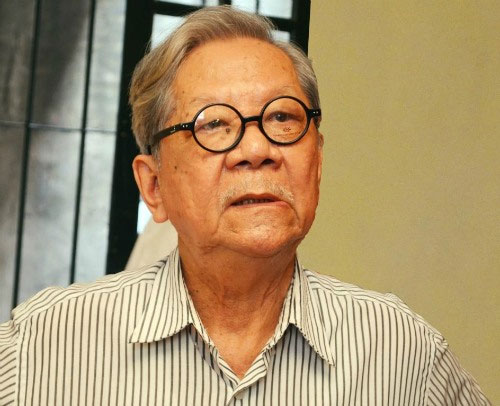 Rest in peace: Composer Hoang Van. — Photo ngoisao.net
Van's real name is Le Van Ngo. He was best known as a veteran composer during the two Indochina wars. Born in July 24, 1930 in Hanoi to a Confucian family, his grandfather and father were both Confucian scholars. He held many significant positions in the military before being sent to receive music training at Beijing Central Conservatory of Music when the wars ended.  
After returning to Vietnam, he was the conductor of The Voice of Vietnam's troupe, while lecturing at the composing faculty at Ha Noi Conservatory of Music (now Viet Nam National Academy of Music) until 1989. He was also member of Viet Nam Association of Musicians and worked there until 1996.
Van was widely known for his war epic song Ho Keo Phao (Artillery Pulling Chant), which was popular in North Vietnam in 1954. The song depicted a scene of artillerymen pulling a heavy cannon to the top of a mountain in the fierce Dien Bien Phu battle.
Van also composed songs for movies, plays, traditional opera and reformed theatre. Most of his songs were about the two Indochina wars and patriotism, such as Toi la nguoi tho lo (I'm A Miner), Bai ca xay dung (The Song of Nation Building), Quang Binh que ta oi (My Homeland Quang Binh) and Nguoi chien si ay (That Soldier).
He was given the Ho Chi Minh Award on Literature and Arts in 2000. 
Source: VNS