Hanoi's Culture and Sports Department has sent a letter urging the municipal People's Committee to preserve an archaeological site dating back to 1,000 BC in the city's western outskirts.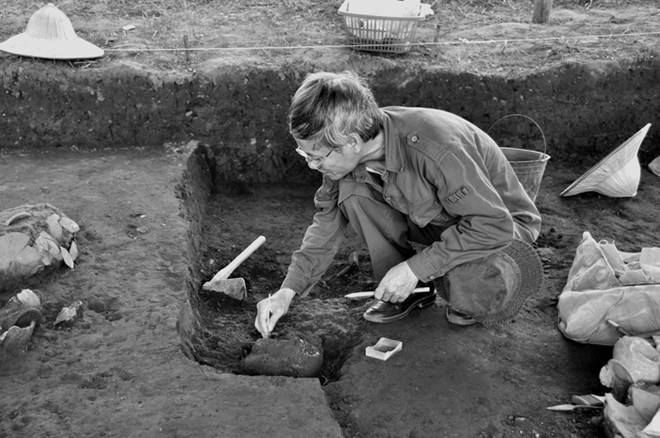 Archeological excavation at the Vuon Chuoi archaeological site in Hanoi (Source tuoitrenews.vn)
The letter quotes recent media coverage saying the "earliest residents area [named Vuon Chuoi in Lai Xa village, Kim Chung commune, Hoai Duc district] of the city are on the verge of being erased".
The dispatch also mentions Prof Nguyen Van Huy's opinion on the site. Huy is the former director of the Vietnam Museum of Ethnology. The letter asks: "the authorities should take urgent actions to protect the site".
The archaeological site is of Dong Dau culture, from about 3,000 years ago, and was first excavated in 1969. Since then, the site has been excavated several times, the most recent in December 2013 by the department in coordination with the Hanoi Social Sciences and Humanity University.
The objects found through excavations include stone, bronze and ceramic objects of Dong Dau culture.
Dong Dau culture is one among four periods of Dong Son civilisation – from the early stages of the Bronze Age to the early stages of Metal Age. Dong Dau culture dates back to 1,500-1,000 BC.
Traces of the culture have been found in the northern midland region. Sites in Hanoi include Thanh Den site (Me Linh district) and Chang Communal House (Dong Anh district).
Officials from the department on December 5 examined the site with representatives of Hoai Duc district's People's Committee.
At present, the whole Vuon Chuoi site is located in a Thang Long 9 Construction Company-invested urban building project.
No buildings have been constructed as yet and some families are growing vegetables on the project's area. Near the site, some enterprises have dumped industrial and construction waste.
The department asked the Hanoi People's Committee to send letters to ask the Project Management Board of Thang Long 9 Construction Company and the Vietnam Joint-Stock Trading and Construction Cooperation to implement proper measurements to protect the excavation site until the Hanoi People's Committee issues a final decision on the site. 
During the construction process, if workers find antiques, they should hand the objects to Hoai Duc district's People's Committee.
The building investors should work with local authorities to propose solutions to protect the site.
Local authorities will also tightly control the renovation and building process around the site to gather antiques if any were unearthed.
The department also asked the city's authorities to organise gathering of materials on the exactions, and hold examinations by experts and workshops to judge their value and propose protection methods for the site.-VNA