Hai Phong-based Mai Van Phan has become the second poet from Vietnam to win the prestigious Cikada Prize.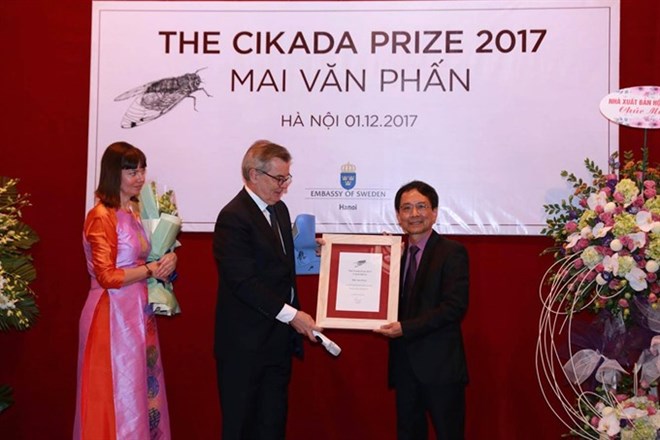 Mai Van Phan (right) receives the Cikada Prize from Dr Lars Vargö, chairman of the Cikada Prize's jury, at the Temple of Literature on December 1.
Established in 2004, the Cikada Prize is awarded to an East Asian poet who "in his/her poems shows poetic sensitivity for the inviolability of life". The prize was founded on the 100th birth anniversary of Swedish Nobel Prize laureate Harry Martinson. The winner gets 20,000 SEK (2,200 USD) and a ceramic art piece made by Swedish artist Gunilla Sundström.
In an award ceremony held at the Temple of Literature in Hanoi on December 1, Phan expressed his appreciation to those who have translated his poems into other languages. He expressed his appreciation for literary critics and translators Erik Bergqvist and Maja Thrane, who helped bring his works to Swedish audiences.
"I could not imagine that my poetry, which has a strong traditional identity, and my personality allure readers, especially smart judges on the other side of the globe," he told Vietnam News Agency's English language newspaper Viet Nam News.
Addressing the ceremony, Ylva Jansson, Chargé d'Affairs of the Swedish Embassy said Phan has proved how poetry can give us a greater understanding of the lives and cultures of others.
"Through poetry, the voice of one person can tell the story of many. His poetry has been translated into 25 languages. Already in 2009 Mai Van Phan's poetry was translated into Swedish and published as a part of the anthology 'Till: igår – tolv vietnamesiska poeter'. A bigger selection of his poems have this year been translated and published in Sweden through the book 'Höstens Hastighet'," she said.
Nguyen Phuong Hoa, deputy head of International Cooperation Department under the Ministry of Culture, Sports and Tourism, stressed that the award is not only a recognition to the poet's efforts but also recognition for modern Vietnamese poetry.
"The prize is very meaningful, expressing an open policy in encouraging cultural diversity and helping all of us understand more about the beauty of poetry, souls and lives of other peoples," she said, "The prize is praise for the values of humanity for peace and a better life as well as an important bridge in the Vietnam-Sweden friendship."
Phan, who was born in 1955 in the northern province of Ninh Binh, has received many literary awards in Vietnam, and his poetry has been published in volumes in English and French.
The first Vietnamese winner of the award was Hoang Thi Y Nhi in 2015.-VNA