VietNamNet Bridge – The fourth Young Fine Arts Festival, which opened yesterday in Hanoi, features works by young artists using a wide range of media to express their observations and concerns about life.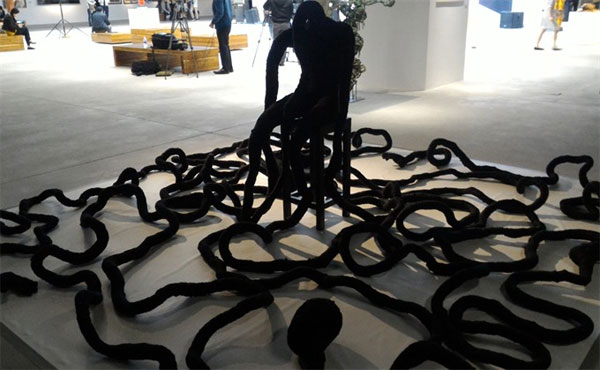 Sculptor Nguyen Duy Manh from the northern province of Vinh Phuc presented a sculpture entitled Dem (Night) made from fabric. — VNS Photo Minh Thu
Nguyen Khac Chinh, Le Thi Que Chau and Ha Phuoc Duy depicted a common scene of modern life by painting people using smartphones, forgetting all of their surroundings.
Chinh portrayed a man sitting alone with a smartphone. Chau described a meal shared by a father and daughter. While the father is waiting to talk, his daughter is busy on her smartphone. Duy captured a street corner, full of people all glued to their phones.
"Sometimes we sit together with friends at a coffee shop but no one communicates directly with others," said Chinh. "Though the world has become flat and people can connect through social networks, we still feel isolated and lonely."
Sculptor Nguyen Duy Manh from the northern province of Vinh Phuc presented a sculpture entitled Dem (Night) made from fabric.
Manh said he found inspiration to create the work while teaching in a mountainous region.
"I have taught there for nearly 10 years and sometimes I felt homesick and lonely," said Mạnh. "The man in my work struggles to find an escape, as a tree raises up its branches to find the sunlight."
The Young Fine Arts Festival 2017 aims to encourage the young generation's creativity and development while contributing to an expansion of Viet Nam's contemporary fine arts scene, said Vi Kien Thanh, head of the Fine Arts, Photography and Exhibition Department under the culture ministry.
"Through the exhibition, we easily understand the energy of young artists and their unique ways of expressing their concerns."
Thanh said the event aimed to reinforce the cultural authority's support for young artists, who will create cultural pieces for today and tomorrow, contributing to a strong national cultural identity.
Thanh is head of the art council, together with painter Dao Quoc Huy, sculptor Le Lạng Luong, graphic artist Vu Bach Lien, art curator Nguyen Nhu Huy and installation artist Ly Hoang Ly.
After five months, the organising board received 379 entries from artists aged 18-35 nationwide. The art council selected 95 artworks created by 80 artists to display at the exhibition. The entries are divided into six categories including paintings, graphics, sculptures, installation art, video art and body art.
Lien remarked that the number of video art, installation art and body art works is small compared with other genres. She suggested that young artists should experience new types of art and new materials.
Launched in 2007, the triennial festival helps discover and encourage young artists to integrate with global contemporary art. It is also an opportunity for society and the national departments of culture to obtain a better understanding of Viet Nam's contemporary fine arts scene; in turn, this will lead to more support for the country's arts in this era of globalisation.
The exhibition will run until December 5 at the Vincom Centre for Contemporary Art (VCCA), Royal City residence area, 72 Nguyen Trai Street, Ha Noi.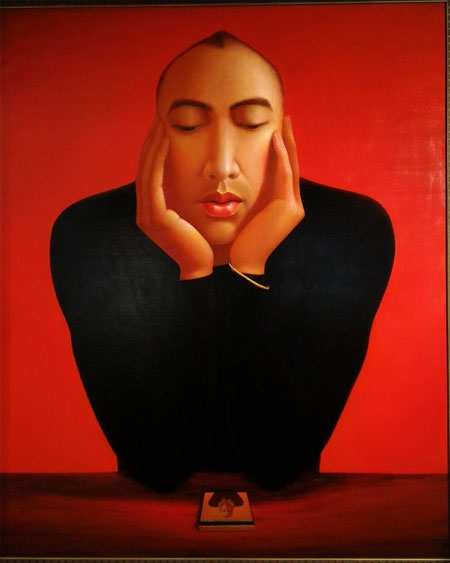 Nguyen Khac Chinh portrayed a man sitting lonely with a smartphone in the painting Wherever, Whenever. — VNS Photo Minh Thu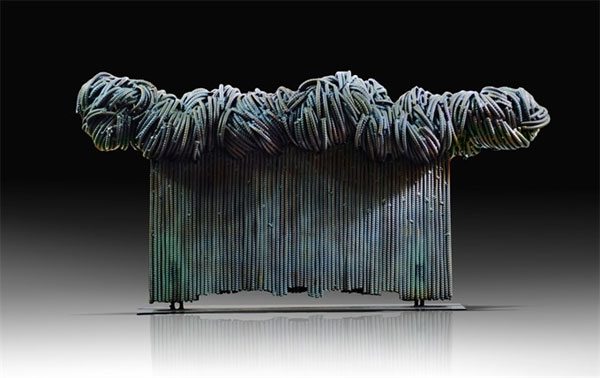 Summer Rain, a sculpture by Vu Binh Minh, 32.
Source: VNS