VietNamNet Bridge – Russian Ambassador Konstantin Vasilievich Vnukov will wear Vietnamese ao dai (traditional long robe) tailored from a 15m-long bolt of cloth at an event honouring the traditional costume.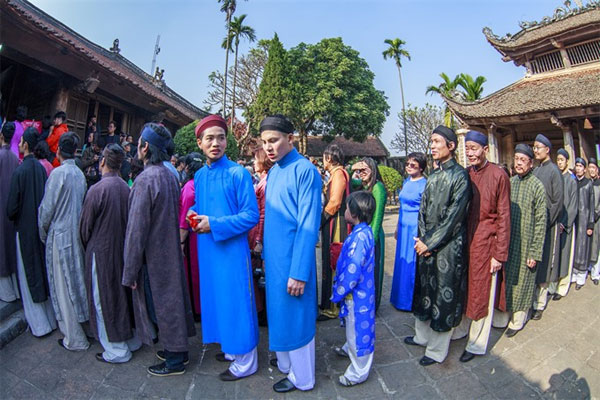 For men: Members of Dinh Lang For men: Group wearing ao dai. Events honouring the costume will be held at the Old Quarter. — Photo courtesy of the group
An art performance featuring ao dai will be held on Friday at the Old Quarter Culture Exchange Centre, 50 Dao Duy Tu Street, Ha Noi.
The event includes a fashion show of traditional long robes collected and designed by Dinh Lang Viet (Vietnamese Communal House) Group and long robes for women by designer Lan Anh.
The Indian and Indonesian ambassadors will also attend the event. Traditional costumes from India, Indonesia and Russia will also be on show.
"Traditional long robes will be worn by amateur models from Dinh Lang Viet Group at an installation space reflecting Vietnamese society in the 19th-20th centuries," said researcher Nguyen Duc Binh from Dinh Lang Viet Group.
The models will wear the long robes and perform activities such as walking down the street, reading a book, holding a fan and writing calligraphy.
Although ao dai has not been popular with men for perhaps 70 years, women wear them on special occasions and, at times, some schoolchildren.
Artists and cultural groups are working to encourage Vietnamese men to wear ao dai. Binh said he tries to wears the robe more often.
The group has carried out serious research on architecture and sculpture as well as the threats that dinh (communal houses) face in the form of encroachment and ravages of time.
Members are working with other experts to promote traditional cultural values such as costume and music. There have been many modern ao dai designs for women, but costumes for men receive little attention, painter Tran Manh Duc, member of the organising board, said.
"For both men and women, ao dai is not a costume but cultural heritage of the nation which has been preserved for centuries," said Duc.
A seminar focusing on traditional long robe for men and its usage in the modern life will be held on November 18.
It's a part of the series of activities entitled "Origin", organised at the Old Quarter from November 17- 26 to celebrate the Viet Nam Cultural Heritage Day (November 23).
Tran Thuy Lan, vice chairwoman of the Old Quarter management board, said an exhibition featuring  traditional long robes and introducing the former examinations system under feudalism would also be held from November 17- 26 at the Ha Noi Old Quarter Culture Exchange Centre.
Traditional tea culture will be in the spotlight at Heritage House (87 Ma May Street), featuring the participation of tea masters.
Meanwhile, visitors to Kim Ngan Temple (42-44 Hang Bac Street) will be introduced to folklore music such as ca tru (ceremonial singing) and cheo (traditional opera).
These performances will be held on Friday and Saturday evenings. Entrance is free. 
Source: VNS