HCM City's visual arts culture in recent years has seen the opening of new contemporary art spaces, including The Factory Contemporary Arts Centre (FCAC), BLANC Art Space and Đông A Gallery.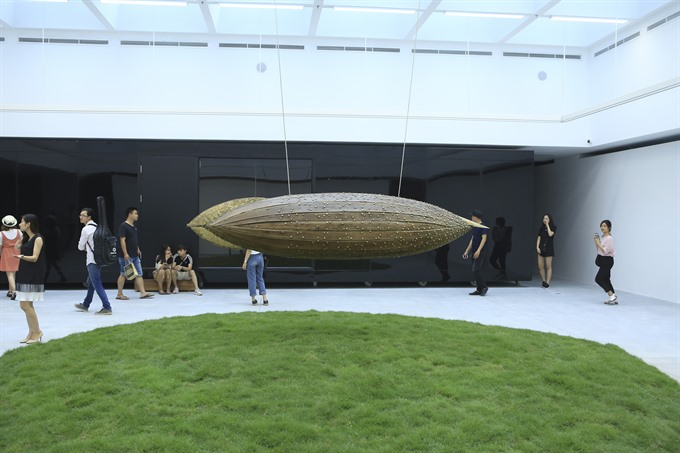 Multiple new contemporary art spaces including The Factory Contemporary Arts Centre (FCAC), BLANC Art Space, and Đông A Gallery have brought a breath of fresh air to HCM City. Photo courtesy of Việt Nam Investment Review
Other popular venues that opened around 10 years ago included Sàn Art, Doclab, Địa Project, Gallery Quỳnh, Nhà Sàn, and a few others, according to Phụ Nữ (Women) Newspaper.
Though they were successful in showcasing contemporary art, some of these venues had to close because of a lack of visitors.
Venues that have opened in recent years have learned from their counterparts and are doing reasonably well.
The 1,000-sq m Factory Contemporary Arts Centre, which was opened in March 2016 in District 2 by designer Thuỷ Nguyễn, has  showcased 14 exhibitions and multiple workshops.
About 50 artists, including Vietnamese and those from Singapore and Hong Kong, have taken part in the exhibitions, attracting 1,000 to 3,000 visitors each.
Popular exhibitions included Mắt Xích (Chain) from artist Lê Hoàng Bích Phượng, Lạc chốn (Dislocate) from Bùi Công Khánh and Nắng bằng phẳng (Flat sunshine) from Lena Bùi.
Others that were successful were Quên lãng nên thơ (Poetic amnesia) from Phan Thảo Nguyên and Lịch sử viễn du: cát trong tai tôi, trôi dạt thế giới (Histoire D'un Voyage: sand in my ears, adrift of the world) from Nguyễn Thuý Hằng.
"The demand for contemporary art is high and artists need a space to introduce their fine pieces. Hence, it's necessary to create a spot which benefits visitors, artists and organisers," Thuỷ said.
"Of course, higher quality is expected after each exhibition. Later, artists are required to deliver more creative artworks in order to draw audiences," she said, adding that the local art industry was developing well.
The BLANC Art Space in District 3, which was also launched last year, stands out, primarily for its project "A new artist every two weeks".
After the exhibitions Sài Gòn ơi ta trở về (A showcase of Sài Gòn in the 90s) and Sài Gòn 3 mét vuông (Three-square-metre Sài Gòn) were held, BLANC Art Space became a popular destination for locals.
"I revisited my childhood when I saw the Sài Gòn showcase. Life has been so busy and I realised that I'd forgotten most of my childhood games. I was glad that I could recall beautiful memories," Trường Hải, a visitor, said.
Another great art venue is Đông A Gallery, known for organising multiple meetings between international artists and local audiences.
Đông A Gallery has also extended its business to Hà Nội.
The 4,000-sq m Vincom Centre for Contemporary Art (VCCA), which was launched by Đông A Gallery and Vincom in June, has  sparked visitor interests.
VCCA aims to contribute to the development of contemporary art in Việt Nam by bringing art pieces closer to the public and inspiring visitors with its aesthetic environment, said organisers.
Though a "newbie", VCCA has carefully planned its journey with different themes every season.
The first event of VCCA was Toả (The Foliage) exhibition, which represented a dialogue between the cultures of the East and the West.
More than 19 artists participated in the exhibition, both professionals and amateurs.
The exhibition showcased art pieces of different topics and forms to provide visitors with an overview of what made up contemporary art.
"The new contemporary art spaces, together with the older ones, are expected to contribute to making Việt Nam a more modern, interesting country to visit," Hải said. – VNS