A park featuring symbols of members of the Asia-Pacific Economic Cooperation (APEC) officially opened in the central city of Da Nang on November 9 as part of activities of the ongoing APEC 2017 Economic Leaders' Week.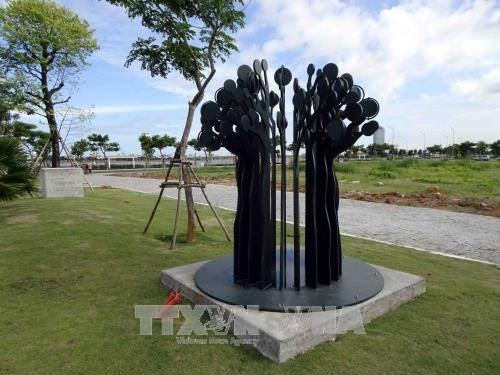 Vietnam's statue named "khoi nguyen" (Origin) 
Addressing the function, Deputy Prime Minister and Foreign Minister Pham Binh Minh said the park is "an effort to expand and deepen understanding of APEC, connecting people-to-people and advancing exchange." 
He also expressed his gratefulness when Vietnam's call for contributions was responded by all economies, who sent selected works of art that showcase the region's rich cultures and contribute to the overall theme of APEC 2017 "Creating new dynamism, fostering a shared future."
He said he hopes that the park will be "a symbol of APEC innovation, vigor and spirit cooperation", and one of the must-visit attractions for any traveler in Da Nang. 
For his part, Chairman of the municipal People's Committee Huynh Duc Tho said, APEC Park is a special project for the people and the city "since it marks the event of Da Nang's honour to be the venue for APEC 2017 Economic Leaders' Week and exhibits beautiful art works of member economies.
Every art work displayed in the park is special and beautiful in its own way and presents cultural features of respective member economy, he said. 
"APEC park is truly a symbol of solidarity and unity among APEC community, where cultural diversity is promoted," according to Tho.
Located to the west of Han River in Hai Chau district, the triangle-shaped park features tiled pathways and pedestrian areas within a total area of 752sq.m. The remainder of the 3,000 sq.m site is for planting trees and grasses, as well as for placing the symbols of APEC's member countries.-VNA