VietNamNet Bridge – US publisher Algonquin Books has bought the copyright of a novel written in English by Vietnamese author Nguyen Phan Que Mai, who lives in Belgium with her family.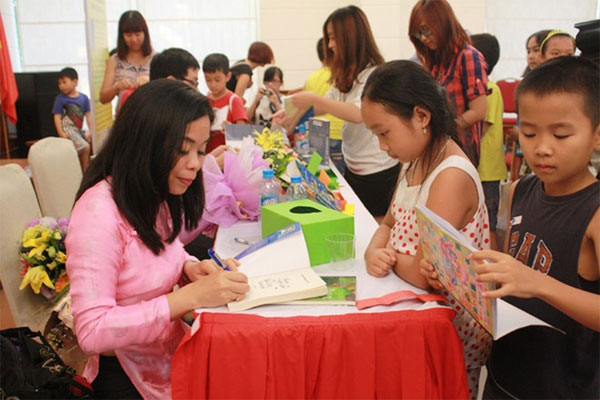 For the young: Author Nguyen Phan Que Mai and her young readers. — Photo by Viet Ha
The book, Nhung Ngon Nui Ngan Vang (The Mountains Sing), is about the life, thoughts and conflicts of four generations living in a Vietnamese family during wartime. The 300-page book will be released early next year.
The writer, who spent five years writing in both Vietnamese and English, owns the copyright for the book's Vietnamese version.
Mai has written and translated dozens of books of poetry, fiction and non-fiction, and has received grants, fellowships, scholarships and awards from various Vietnamese and international organisations.
Her latest book, Hat Muoi Rong Choi (A Wandering Grain of Salt), was released last year at the University of Social Sciences and Humanities in Ha Noi. 
It contains details about Mai's experiences during trips around the world, and includes three stories "Escaping by an Inch in Laos", "On the Alert for Being Shot in the Philippines" and "Australian People Falling into Oblivion".
In February, Mai was invited to read her poems in Vietnamese on Melodically Challenged, a weekly radio show airing on WRAS radio station at Georgia State University in the US.
On the show, audiences heard Vietnamese folk songs and music performed by Vietnamese singer and songwriter Ngo Hong Quang, including the song Bien (Sea) based on Mai's poetry.
One of her featured books, Di Tim Banh Chung Banh Day (Searching for Earth Cakes and Sky Cakes), will also be published by the US-based Benchmark Education.
The book features a young girl living in Ha Noi who discovers her native village and the traditional culture and lifestyle after her vacation to visit her grandparents.
The book, which is about life and love in a modern society, is expected to be released in Autumn 2018.
Source: VNS