Vietnamese representative Huyen My and beauties of Miss Grand International 2017 participated in the photoshoot on October 6 in some locations in Ho Chi Minh City.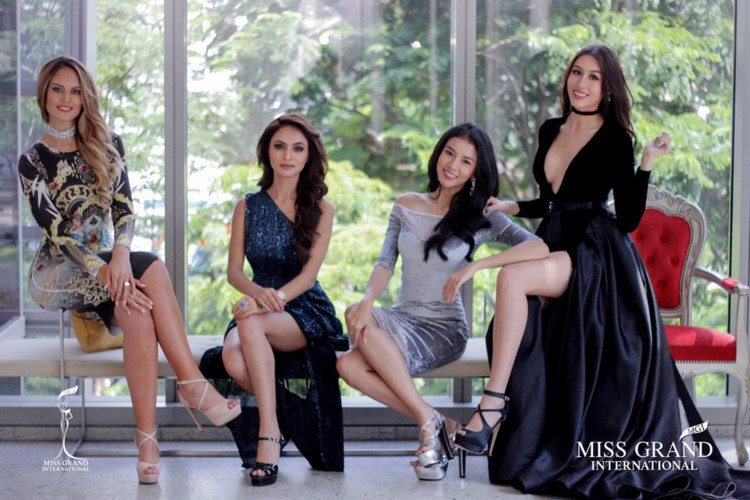 The first group of Miss Grand International contestants participate in the first photoshoot of their portrait in the morning of October 6. Most of the beauties wear evening gowns for the photoshoot. Pictured are representatives from Argentina, India, Indonesia and Thailand (from left to right).

After the welcoming party on October 7 in HCM City, contestants will arrive in the central province of Quang Binh to join the first competition – National Costume Contest. 










A representative from Mongolia, Anujin Sugirjav.
American contestant Taylor Kessler in an off the shoulder dress and bejeweled earrings.
Kayii Lei from Macau is all smiles in a stunning red dress. 
Miss Indonesia Dea Goesti Rizkita shown here in an off the shoulder velvet dress with sleeves. 
Indian contestant Anukriti Gussain wearing an elegant sequined blue dress. 
Fijian Nadine Roberts smiling in a modern white netted dress and gold watch.
Huyen My and some contestants shooting an advert on October 6. Here the contestants are dressed much more casually yet still exude glamour. 
The final round of Miss Grand International will take place on October 25 on the island of Phu Quoc. The jury board includes Mr Nawat Itsaragrisil, President of Miss Grand International Org (MGI). , Ms Teresa Chaivisut, Vice President of MGI, Miss  Grand International 2013 Janelee Chaparro, actress Ly Nha Ky and Giang My.
Zing/VOV