VietNamNet Bridge – With a new series of 3D colouring books, children can scan their pen-and-paper creations into an app that lets them digitally render their drawings in the real world.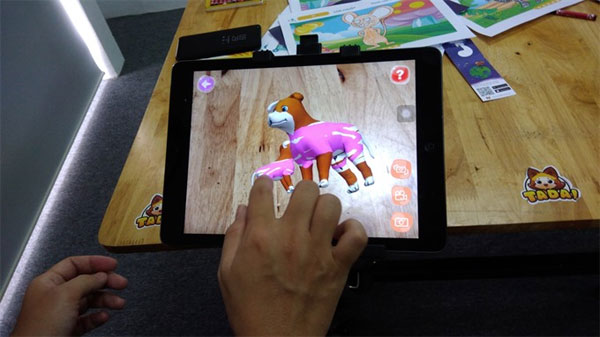 Art meets tech: Readers can interact with their drawings, developing creativity and mental capacity. 
TADA books are a new product from ADT Creative Company. The company has released two TADA books so far with the theme of Twelve Zodiac Animals and Mid-Autumn Festival in Viet Nam. The company introduced these products at the recent book fair organised at the Thang Long Imperial Citadel and received attraction of thousands of readers to experience.
"Readers at pre-school and primary school age can better understand the beauty of the culture and customs Viet Nam through the stories," said Pham Mai Anh, co-founder of ADT Creative Company. "As the books are created by Vietnamese authors, we have an ambition to promote the Vietnamese traditional culture with the technological support."
After painting or colouring in as usual, readers can use the application TADA Magico Colour (can be downloaded for free) to interact with their creations in the real world.
"They can approach the book content in a new and attractive way allowing them to interact with the figures in the stories," Anh said. "From a tablet or a smartphone, it is possible to scan the coloured drawings and see them move following the users' desire."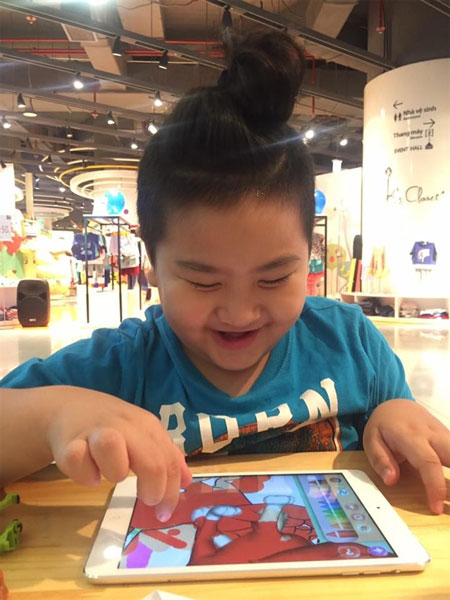 Joyous: A young reader paints in a TADA book. 
The books were created with content support and advice from experts in pre-school education and children's books.
All the interests of TADA Books will be donated to the fund of technology development for students in remote areas.
TADA Books distribution is a part of the non-profit project Viet Nam Ky Dieu (Amazing Viet Nam) carried out by ADT Creative Company, with the aim of preserving cultural values and promoting the image of the country worldwide.
The company creates 3D images of famous destinations in Viet Nam such as Ha Long Bay, Lak Lake in the Central Highlands province of Dak Lak, Hoi An Town and Ngu Hanh Son tourist area in Da Nang City. Users can enjoy a 3D tour—in Vietnamese or English—of these beauty spots.
"The 3D tours can't replace the truthful experience and emotions we have when we come to these places and witness them with our eyes," said Anh. "However, they give people a glimpse at the destinations and help lure visitors to come in person." 
VNS