VietNamNet Bridge – Thousands of colourful lanterns are lighting up the streets of HCM City's District 5 during the night, attracting thousands of visitors for the upcoming Mid-Autumn Festival.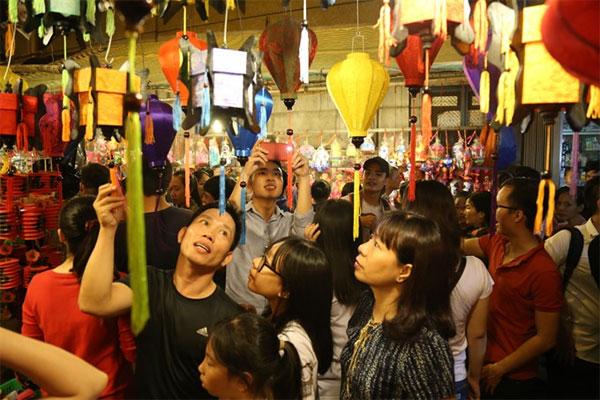 Fun for all: The Lantern Town area attracts not only children but also adults.– VNS Photos Ngoc Diep
The streets, informally named Lantern Town for decades, has become a popular destination for people.
The town includes the streets of Luong Nhu Hoc, Tran Hung Dao, Phu Dinh, Nguyen Trai and Nguyan An.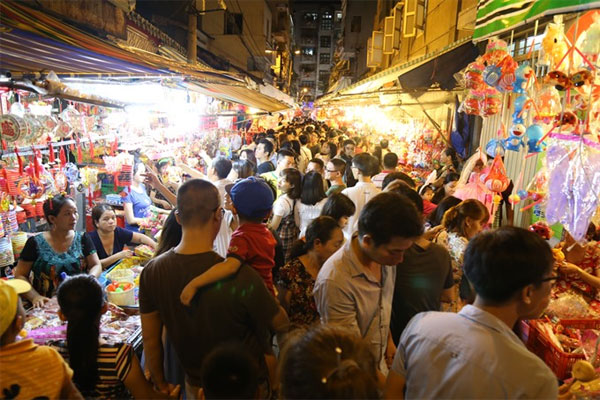 Heaving: With colourful lanterns, Phu Dinh Street in HCM City's District 5 is crowded with hundreds of visitors.
Most houses and sidewalks along the streets have been turned into lantern shops on September 15.
There are hundreds of stalls with thousands of lanterns of both traditional and modern designs with various shapes, colours and sizes.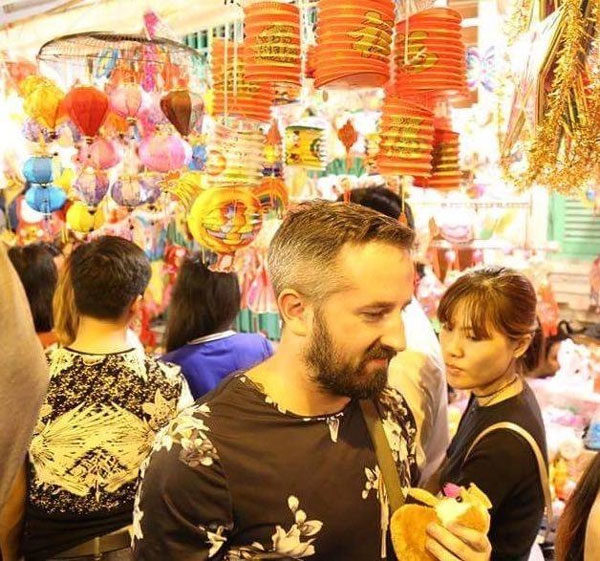 Fascinated: Colourful lanterns line streets, attracting foreigners who want to learn more about Vietnamese culture.
The Mid-Autumn Festival called Tet Trung Thu is celebrated on the 15th day of the eighth lunar month, falling on October 4 this year.
This is an occasion for families, with children enjoying activities and understanding more about the nation's traditional values.
In recent years, the festival is also attracting teenagers and adults as well as kids.
Vu Hoang Anh Thi from Thu Duc District said: "This is the first time I've been to see the mid-autumn festival atmosphere here. It's really interesting."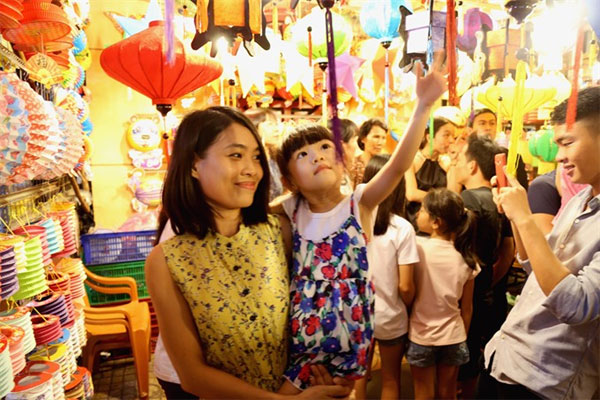 Start them young: A young girl is fascinated with colourful lanterns.
This year, the lanterns are more diverse, with traditional items chosen by many consumers, according to Nguyen Thanh Tin, a lantern seller.
Some lantern shop owners said the streets are often overcrowded with many visitors on the weekend.
"Only some visitors actually buy lanterns, while others come to enjoy looking at the lanterns and take photos," they added.
Besides selling to individual customers, many shops have also received big orders from companies and organisations that want to buy lanterns for their celebration activities. 
This year, lantern prices are at VND60,000-150,000 (USD$2.6-6.6) each. 
Ngoc Diep
VNS