VietNamNet Bridge – Thousands of professional and amateur competitors are expected to take part in the twelfth annual Canon Photo Marathon Viet Nam between October 8 and November 5.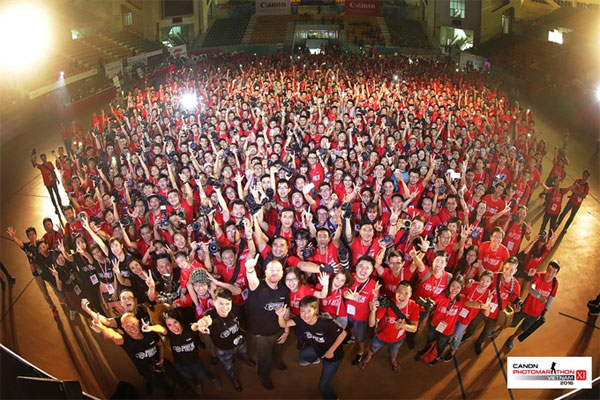 Click, click: Thousands of competitors got involved in last year's Canon Marathon contest. — VNS file photo
Separate competitions will be staged in Da Nang, HCM City and Ha Noi.
The action-packed one-day shooting assignment will challenge contestants to push the limits they thought possible with their cameras. It's all about capturing the most beautiful moments in a short space of time. This year competition will also allow flying cameras and drones to be used, but not mobile phones.
A total prize pool of VND1.4 billion (US$61,500) is up for grabs. Also, the winner will have the opportunity to compete with 16 other contestants from around the region at the Canon PhotoMarathon Asia Championship in 2018, where a further $5,000 in prize money can be won.
Starting at Da Nang's Son Stadium on Phan Dang Luu in Hai Chau District on October 8, the event will then move to HCM City's Hoa Lu Stadium in District 1, before wrapping up in Ha Noi on November 5 at the Children's Centre in Hoan Kiem District.
The event is open to photographers who have legal residence in Viet Nam. Hiroshi Yokota, CEO of Canon Marketing Viet Nam said: "The marathon strikes just the right balance between photography, flexibility and creativity. The contest has gone on to flourish not just in Viet Nam but all around the region."
Tang My Thi, winner of the grand prize for the marathon in HCM City last year, said the contest was the biggest of its kind in the country.
"Great prizes, great photographers, tough conditions, tight deadlines. It's an incredible day. It lured me in last year to pit my skills against 5,000 other contestants. One of my shots under the Traditional Market theme even won approval from our judging panel of top photographers from around the country. One year on, I still receive requests for photography and have expanded both my client base and my professional skills behind the camera."
The event is open for registration from September 5 at www.canon.com.vn/photomarathon. As in previous competitions, the themes for the day's shooting will be kept secret until the morning of the event to make things interesting and ensure a level playing field.
In addition to the three events, there will also be an online component to this year's challenge for those unable to attend.  
The judges of the contest will be Justin Mott and Nguyen Hai Dong, who will be joined by photographer Hai Thanh for the first time in the judging booth.
VNS