VietNamNet Bridge – A traditional theatre programme offering tuong and hat boi (classical dramas) performances free will begin this month on HCM City's Bui Vien Walking Street, as part of the city's efforts to attract visitors.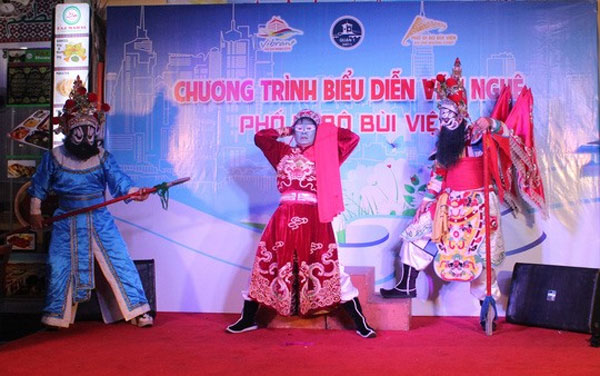 Traditional art: Tuong artists from the HCM City Hat Boi Theatre perform at Gioi Thieu Nghe Thuat Hat Boi (Introducing Vietnamese Classical Drama of Tuong), a free programme for visitors on HCM City's Bui Vien Walking Street of District 1. Photo Ngoc Tuyet
The event, Gioi Thieu Nghe Thuat Hat Boi (Introducing Vietnamese Classical Dramas), will feature veteran and young performers of the HCM City Hat Boi Theatre.   
Directed by veteran artist Dinh Bang Phi, who has more than 45 years of experience in the art, the programme offers free shows. 
"Tuong is a very unique genre of Vietnamese theatre, originating in the 12th century," Phi said. "Through our shows on the walking street, we hope to introduce the art to visitors who can learn about the country's history, culture and lifestyle through tuong."
The first show on Monday night offered extracts from Tram Trinh An (Kill Trinh An) and San Hau (The Reign), both featuring historic events of the 18th century. It starred young talents Linh Phuoc, Thanh Trang and Bao Chau.
"Our actors are young but their performances left a very strong impression on audiences," said artist Nguyen Hoan, the show's director.
Each 60-minute show will offer three extracts from historical plays by authors such as Dao Tan, Tong Phuoc Pho and Nguyen Hien Dinh.
"We hope our performances will attract more visitors to Bui Vien Walking Street," he said.
Several thousand local and foreign visitors have visited Bui Vien Walking Street in District 1 since it opened last month. The street is reserved exclusively for pedestrians from 7pm to 2am on weekends.
During this time, live music performances are offered at both ends of the street, promoting both Vietnamese folk songs and international music.  
Free wi-fi services, public toilets and other tourist-related services are available.
VNS