VietNamNet Bridge – Every guitar players in Ha Noi knows Vu Duc Hien as one of the hardest fighters for the art. Despite obstacles, Hien has stuck to his passion.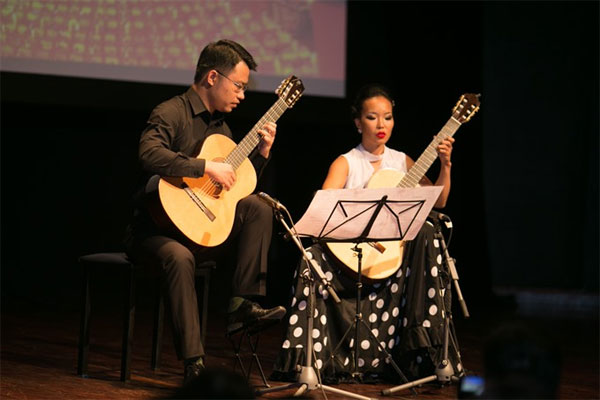 Two to Tango: Vu Duc Hien performs with Le Thu on stage. Courtesy Photos of Vu Duc Hien
Hien was among 30 students at the Classic Guitar Faculty of Ha Noi Art College in 2002. But numbers fell as many moved to the Pop Music Faculty. By the end of the course, Hien was the only guitar student who graduated.
"Classic music attracts small audiences and few players," he said, "Besides talent, learners need passion, patience and eagerness to learn."
Students often learn electric guitar so that they can earn easy money by playing at music shows.
Hien fell in love with the guitar when he listened to his older sister practising. He started to learn how to play in sixth grade and spent all his money on taking extra classes.
"Think carefully," said his father one day, "Choose guitar if you are sure to become a distinguished player, otherwise, don't!"
Hien replied: "I will be distinguished."
After graduating from the guitar faculty in 2006, he sought extra teachers throughout Ha Noi. One of the most influential was musician Nguyen Thieu Quang, who taught him to approach international art so he would have a broader view and develop bigger dreams.
"Guitar is a world full of interesting things that people will not be able to exploit in 1,000 years," Hien said.
In 2012, after a lack of success in making a living from guitar, he moved to the northern province of Son La to open a dancesport club.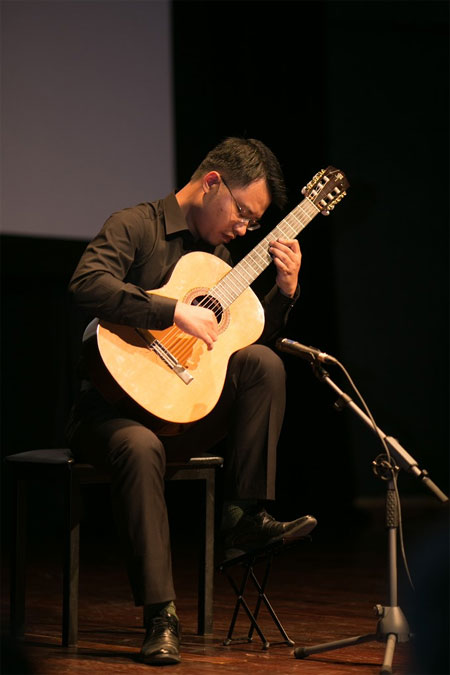 Searching for soul: Hien plans to learn how to make a guitar to learn more about the instrument.
He opened his first guitar class in 2013 gathering 200 learners. Since then, many of his students have become teachers of guitar.
At present, his three classes gather up to 350 people of various ages.
"Unlike piano or other expensive instruments, guitar is more affordable and easy to get," he said. "One can easily buy a guitar if they feel like playing."
Beside inspiring local people, Hien creates exchanges with international artists. In May, he was invited to act as a judge at the International Altamira Contest held in Bangkok, which attracted leading international musicians.
In October this year, he will head a board organising the International Alma Open Guitar Contest in Ha Noi, the first of its kind in the country. About 40 contestants are expected from Thailand, South Korea, India, China and Europe.
Hien said he planned to learn how to make a guitar to understand more about the instrument and become more subjective in controlling his own sound.
His bigger aim is connecting guitar makers to improve the quality of instruments made-in-Viet Nam.
"My first performance in 2013 was hit by a big storm," he recalled, "Violent wind blew, thunder struck and heavy rain belted down, yet the hall was filled. From then on, I knew I had chosen the right path."
Le Trung Hieu, 19, has been inspired by Hien's passion. "My older brother took me to Hien's guitar class," Hieu said, "At first I didn't like classic guitar very much. Yet Hien has taught me basic skills and allured me with classic works."
After a year, Hieu is now an assistant in Hien's classes. "I think I can live on the art and I highly appreciate Hien's lessons as well as hot temper as they all help me strictly follow the path I have chosen," he said. Hieu is now a student at the Department of Classic Guitar of Ha Noi Arts College.
To 22-year-old Le Viet My, Hien has been more than a teacher. "He told me of his own failures to encourage me whenever I got bogged down with troubles," she said, "After talking with him, I found the energy and inspiration to overcome obstacles and practise harder."
"He told me again and again: although you are hurt by life, don't throw away your guitar."
"Up to now, my guitar has been a close friend. I don't mind getting up at 4am in the morning to practise," she said.
Hien has good advice for young people: "Have more and more dreams, put those dreams on an endless road, walk on that road till you have no more time. Just stop when your heart stops."
Hien's day is divided into composing, practising, teaching ... and organising the upcoming guitar festival.
"I can only play with my children from 9pm," he said, "But that time is so precious."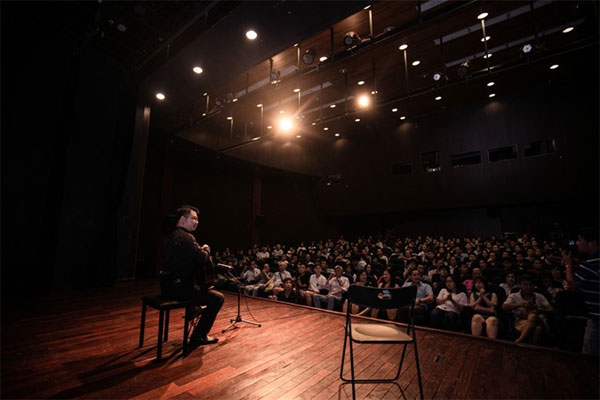 Popular: Hien's shows generally attract big crowds.
Le Huong
VNS