VietNamNet Bridge – A team called Architecture for Community (Kicodo club) from Da Nang's Architecture College has completed painting murals on a set of concrete stairs and manhole covers in Cam Le District in the central city.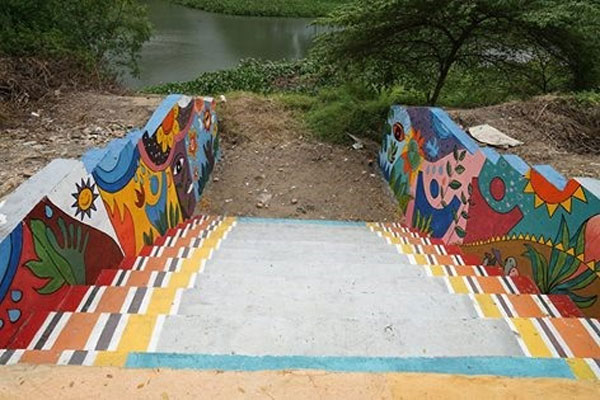 Lively walk: Colourful painted stairs create an art space for pedestrians and tourists on the Cam Le River in Da Nang. — Photos courtesy of I love Cam Le facebook
The team said their work was part of a pilot project under the Rapid Planning project, which seeks to turn heavily polluted sites into attractive spaces for local residents and tourists.
About 20 volunteers and students from the club spent one week (from August 18-26) cleaning up the site along Thang Long Street, which was overgrown with bushes and had become a dumping ground for rubbish.
Students used coloured paints to brighten up the concrete stairs with images of fish and ocean life.
Vo Ho Bich Hanh from the team said the pilot project aimed to raise awareness among local residents on illegal littering along the river side, which pollutes the river local habitat.
The project would review feedback on the work done so far, in order to continue the schedule in the future, Hanh said.
She said the district would set up a public gym and parks for kids in the area.
The mural pilot project was funded by the German Federal Ministry of Education and Research (BMBF).   
The city's tourism department also plans to decorate a 1.5km sea dyke in Ngu Hanh Son District with murals to create a coastal art space for pedestrians and tourists.   
Da Nang was selected as one of the cities, along with Kigali (Rwanda) and Assiut (Egypt) under the Rapid Planning project by the United Nations Human Settlements Programme (UN-Habitat) in 2016-19.
In May, a mural created by artist Nguyen Thi Thu Thuy and her colleagues from the New Ha Noi Art Company located in Da Nang International Airport won the bronze medal at the 10th International Design Awards (IDA).
Different mural projects were also completed at fishing villages in Quang Nam and Quang Ngai provinces in order to boost community-based tourism.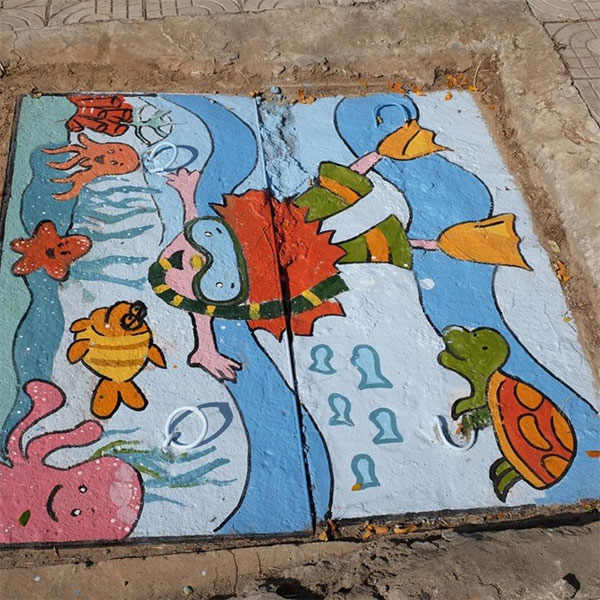 Art space: A manhole cover painted with a lively ocean scene.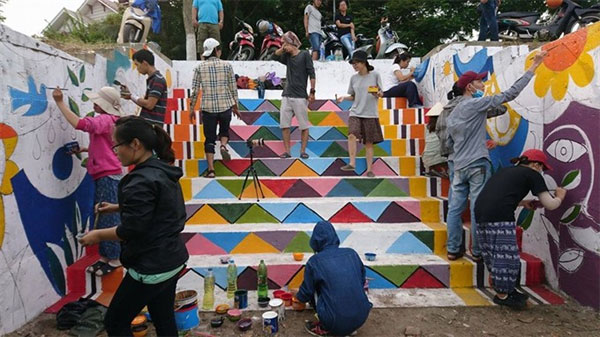 Art for community: Students from Da Nang Architecture College paint a flight of stairs.

Colourful sight: A flight of stairs on the riverbank in Cam Le District in Da Nang has been brightened up by a team of volunteers.
Source: VNS