A new venture promoted by a Harvard-educated business graduate providing a low-cost cinema experience is making many customers happy.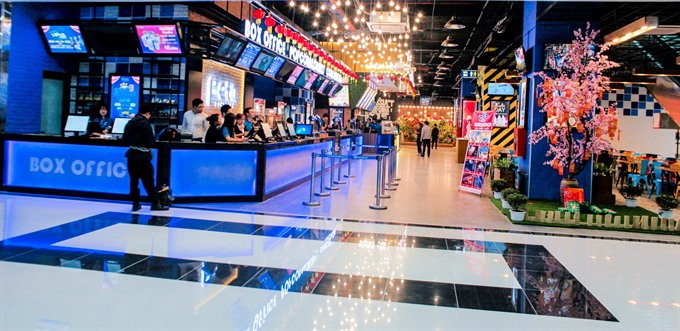 Affordable entertainment: Beta Cineplex is a good choice for movie buffs with ticket prices 60 - 65 per cent lower than high-end cinemas. 
"The cinema is beautiful and ticket prices are reasonable," said Thuy Linh, a college student in Hanoi, after having a fun evening with her friends watching movie at the Beta Cineplex in Me Tri Ward, Nam Tu Liem District.
She is among many young people who've become movie buffs thanks to the low-cost model that targets small cities and suburban areas.  
The film screening market has grown rapidly over the last five years at an estimated 25 per cent to 30 per cent per year, with a ticket turnover of about VNĐ3 trillion per year (US$132 million), according to a report compiled by the South Korean CJ CGV Group last year.
The new, two-year-old venture is helped by the fact that going to a cinema is still a high-cost entertainment for many people, with most cinema complexes built in big cities with high ticket prices.
There were 138 cinemas and cinemas complexes in the country as of the end of last year, according to the Cinematography Department. Most of these are in big cities like Hà Nội and HCM City, and it takes VNĐ200,000 to 300,000 (up to $13) per person for ticket and a drink or snack.   
Viet Nam's Beta Media JSC signed recently an investment agreement with Hong Kong's Blue HK Investments Ltd to build low-cost theatre systems. 
Under the project Beta Media will launch six more cinema complexes in Hà Nội's Đông Anh suburb; the northern province of Bac Giang; the central city of Nha Trang; HCM City and the southern province of Long Xuyen. This will increase its tally to 10 complexes, each with four to five screening halls.
The Beta Cineplex in Thanh Hoa will open in August on the third floor of the  Thanh Hoa Shopping Mall, No27-29 Le Loi Street. The first one was opened in Thai Nguyen in 2015. 
Building cinemaplex in the provinces is an inspired decision by Bui Quang Minh, Beta Media's general director who got his MBA from Harvard University.
He says both the head and the heart were involved in this decision.
"Thai Nguyen had a lot of potential with many college students," Minh said.
"Besides screening the latest movies at the same time as big cinemas in major cities, we are carrying out customer surveys so that we can serve better."
Early this year, Beta Media inaugurated its second Cineplex in the capital city at the Golden Palace in Me Tri Ward, Nam Tu Liem District. The first one was in Golden West, Le Van Thiem Street in Thanh Xuan District. 
These complexes can show films in 2D and 3D formats, but the do not aim at high-tech services so as to keep prices down. Tickets prices at these cinemas are 60 - 65 per cent lower than those in big cities. 
The big players in the fray, like CGV, Galaxy Cinema, Lotte Cinema and BHD are present in big cities and provinces like Hanoi, HCM City, Da Nang, Dong Nai and Can Tho. 
"These cinema complexes aim at audiences in big cities and customers who are able to pay more for tickets. But enjoying the hottest, latest blockbusters is not a demand confined to city dwellers," Minh said.
He affirmed that his company's business strategy aims not only at movie screening but also the provision of others services such as catering and shopping. The investment required in smaller regions is 30 to 40 per cent lower than in big cities.
Recently, the company also entered film production and distribution. It's first movie Mai's Going To Get Married Tomorrow will be released nationwide on September 29. 
Customers like Linh are looking forward to it.
"With Beta Cineplex we have more chances to watch movies during the weekend, because ticket prices are just VNĐ45,000. My friends and I used to go to the cinema in morning because the morning ticket prices are cheaper." 
VNS