Despite historical ups and downs, artisans in Ninh Van commune, Hoa Lu district, Ninh Binh province, have promoted the arts of stone carving, which have been handed down by their ancestors over many generations.

Thanks to their creativity, the artisans have created a prestigious position for the traditional craft village in the ancient capital. Through their talented and skilful hands, inanimate stones are turned into lively works of art.
As mother nature has bestowed Ninh Binh with spectacular limestone mountains, the art of stone carving first appeared in Ninh Van commune four centuries ago. However, the craft has only been developed over the past 20 years thanks to the increasing demand of customers for stone products. In the past, stone carving was only practiced in a few households in the commune, mainly producing items made of blue stone, which were sold locally.
Local statistics show that Ninh Van commune currently has around 80 businesses, 600 collectives and 1,600 households taking part in the carving industry, with a total of more than 3,000 labourers, accounting for 83% of total population there.
As many as 10 villages in the commune have been recognised as traditional craft villages, which have earned a total gross revenue of nearly VND 200 billion (US$ 8.79 million) per year.
In the early stages, stone carvers in Ninh Van only made simple products for farming, such as mortars and mills. However, they have kept themselves updated with advanced technologies and customers' tastes in order to produce stone carvings ranging from simple to sophisticated designs.
Ninh Van stone products are now diversified and divided into groups meeting different demands of its customers: decoration (ornamental plant pots, stone sculptures and water fountains) and spiritual (Buddha statues, worshipping objects and graves).
Ninh Van products have become popular in many areas of the country, such as the statue of Vietnam's mother in Ho Chi Minh City, the Truong Son Cemetery monument and Youth Volunteers in the national salvation struggle against the US in Quang Tri province, Suot Mother Statue in Quang Binh province, Uncle Ho statue in Nghe An province, and General Tran Hung Dao statue in Hai Duong province.
Ninh Van stone carvers have left their mark on many significant cultural and historical constructions, including the Phat Diem stone cathedral, temples worshipping Dinh and Le Kings, and the welcoming gate at the Tam Coc Bich Dong tourist site.
Not only serving the domestic market, the village's diverse products have also been exported to the US and Europe and have won much appreciation from foreign customers.
The success of the craft village is contributed thanks to the efforts of artisans as well as local businesses and managers. Over the past years, businesses have made further investment into advertising products, seeking output for products, and reforming the production process.
The craft of stone carving in Ninh Van has crated jobs and sustainable income for local residents, helping them to nurture their passion for stone carving and upholding the traditional trade of their ancestors.
Outstanding stone products made by Ninh Van artisans:
A Ninh Van craftsman working on a stone product
The stone bridge leading to the Dinh and Le King temples –where the kings of the Dinh and Le dynasties are worshipped.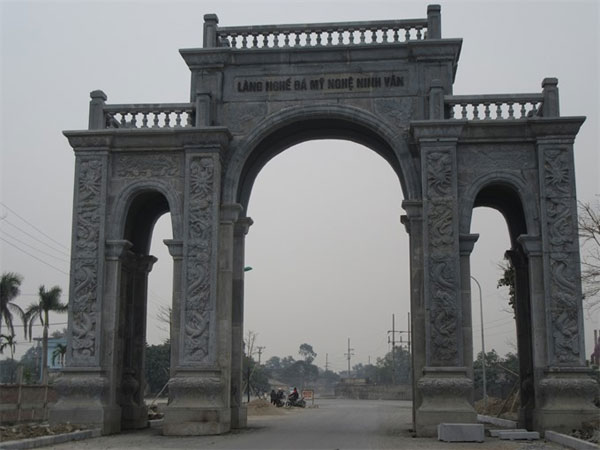 The welcome gate of the Ninh Van stone carving village.
Statue of Uncle Ho in Nghe An province.
Nhan Dan