VietNamNet Bridge – Handicapped teacher Nguyen Ngoc Ky has released a new autobiography in HCM City.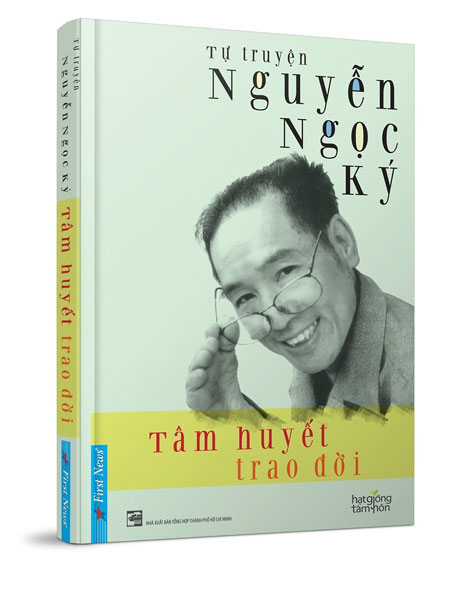 Cover of the autobiography Nguyen Ngoc Ky-Tam Huyet Trao Doi written by teacher Nguyen Ngoc Ky. — Photo courtesy of First News
The 358-page book entitled Nguyen Ngoc Ky -Tam Huyet Trao Doi (Nguyen Ngoc Ky - Passion for Life) includes 50 pieces featuring the writer's challenges during his life, from a boy living in the northern province of Nam Dinh to a student at Ha Noi National University from 1968 to 1970. 
It also describes the dreams and the strong will of Ky, who suffered a severe illness as a child and lost the use of his arms when he was four years old. He taught himself to write with his feet and became a good student.
The book recounts his time as a teacher in his native province and an educator at the Go Vap Education Centre in HCM City.    
Nguyen Ngoc Ky-Tam Huyet Trao Doi is published and distributed by the HCM City General Publishing House in co-operation with its partner Tri Viet-First News.  
Ky's first autobiography, Toi Di Hoc (I Went to School), was released by the Kim Dong Publishing House in 1970. His second autobiography, Toi Hoc Dai Hoc (I Went to the University), appeared in 2013.
Both have been reprinted many times by prestigious publishers.
As a member of the Viet Nam Writers Association, Ky has released many books and poetry collections for children such as Chu Nhen Du Dua (Balancing Spider) and Qua Bi Ky La (The Miraculous Pumpkin).
For his tenacious spirit, he received a medal of honour presented by President Ho Chi Minh in 1963 and the title of Meritorious Teacher in 1992.
The 70-year-old Ky and his life and career have been an inspirational role model to students. 
"Teacher Nguyen Van Ky and his books are popular with both children and adults of different generations because they are full of passion and courage," Do Kim Thoa, a reader from HCM City, said.
"My children loved Ky's books when they were young. Today I am going to buy the books for my grandchildren. I believe they'll learn valuable lessons after reading it," said the 78-year-old woman.
VNS