Bridget March, an English artist who has nurtured a deep love for Vietnam after nearly five years of living and working here, has opened a new European-style gallery in the World Heritage-listed ancient town of Hoi An in Quang Nam Province.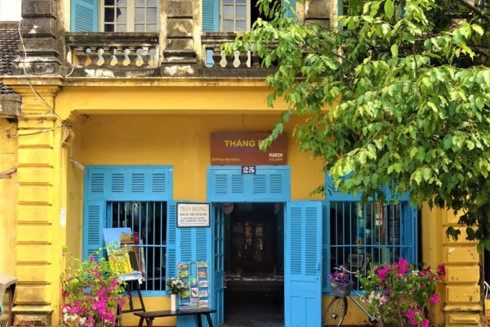 The new gallery called "March" is where the artist will display her artworks about the beauty of the country she has painted during the past five years.    
The gallery occupies an old French house filled with colors as the front of the shop is a mix of yellow walls and blue shutters and lots of beautiful flowers.
Inside the gallery, her colorful paintings adorn the traditional green walls.
In addition, the English artist is also the author of two picture books, namely "A Week in Hoi An" and "A Summer in Sapa", while the third book about Saigon will be soon published as a way to express her deep love to HCM City in particular and Vietnam as well.
The third book titled Sensational Saigon includes many stories and some legends about the southern city and it is illustrated with over 100 drawings and watercolor paintings of the old and the new, the familiar and the hidden. 
To her, Saigon will always continue to change but she has taken a 'snapshot' of this vibrant place while it is in its most dynamic moment of change.
Bridget March shows her expectation that the new gallery will contribute to making the ancient city one of perfect get-away destinations for those who have a special love for arts.
Located at 25 Phan Boi Chau Street in the ancient city, the gallery will be open from 10 a.m. to 6 p.m. with free admission.
SGT