In today's society, the most important duty of young writers is to offer quality works that expand people's intellectual horizons, delegates said at a meeting for young writers held in Ho Chi Minh City last week.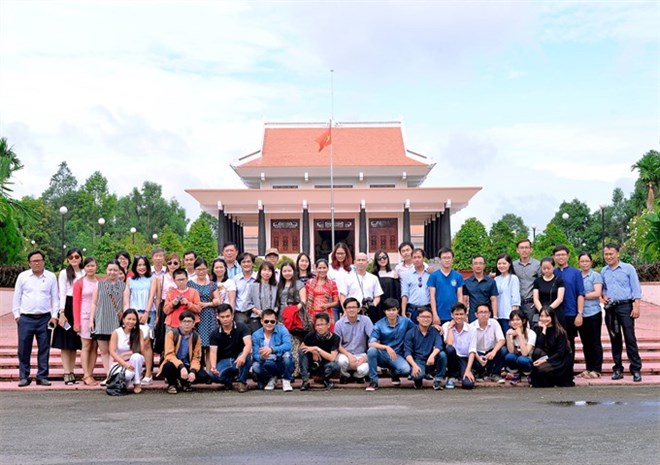 Young writers take part in a field trip in HCM City as part of the fourth meeting for young writers organised by the city's Writers Association
Organised every five years by the HCM City Writers Association, this year's event attracted more than 100 writers born in the 1980s from HCM City and the Mekong River Delta.
Huynh Trong Khang, 23, popular for his novel Mo Phan Tuoi Tre (Tomb of Youth), said that his works respected readers and that he always tried to deepen his knowledge to produce quality works that can enhance readers' tastes.
"Never allow yourselves to fall behind," Khang said.
Nguyen Dinh Minh Khue, head of the Young Pen Club at the HCM City University of Social Sciences and Humanities, said: "Young writers are focusing a lot on youth's feelings such as love, hatred, heartbreaks and loneliness."
Some of the books have become bestsellers, such as Buon Lam Sao Buong (How to Get Rid of Sadness), a novel by Anh Khang about sadness and anxiety in love. As many as 70,000 copies since 2014 have been printed.
Hamlet Truong and Iris Cao released their co-written novel Ai Roi Cung Khac (Everyone Will Change) which features young people's feelings and thoughts about love and relationships with family and friends.
Around 20,000 copies were printed in 2015 for the first edition.
However, Khue said: "I know that life is complicated and people need to share their feelings. But it's strange that the market is overwhelmed with these kinds of books to serve specific readers, particularly young people."
"I thought that true writers are 'strong men' who help improve readers' tastes as well as intellectual standards," he added.
Poet Vinh Thong, who began writing at the age of 14 and has published 22 poetry books, recommended that young writers focus on urgent issues and problems in society.
"Most writers love to write about school, friendship and love when they start their writing careers. But when society changes, they should change their mind," said Thong, a 22-year-old student at the HCM City University of Social Sciences and Humanities.
Literary critic Tran Xuan Tien of the city's Van Lang University agreed with Khue and Thong.
"Young writers are doing their jobs well. They satisfy the needs and wants of the readers, particularly young people, but they should be more responsible in their work. Respect for readers doesn't mean they should just satisfy the crowd's needs, but instead means they should help improve readers' tastes and minds."  
Writer Tran Minh Hop said: "I realised writing is the best way for young writers to contribute to society's development, even though it's a hard road."
The 29-year-old likes to write about the poor and their hard lives to introduce readers to the reality of life and society.
His novel Co Gai Ban O Mau Do (The Girl Selling Red Umbrellas) won the Young Writer prize given by the HCM City Writers Association in 2011.
"Some writers are too inexperienced to understand the duties of an author," he said, adding that becoming a professional writer was difficult.
Veteran poet Tran Quang Chuyen said young writers have more opportunities now to approach the world's cultural and literacy achievements and to travel everywhere to open their minds.
Chuyen is a member of the Vietnam Writers Association and the city's Writers Association. Of his 15 poetry books, some have won prizes awarded by prestigious magazines and associations. 
"Love and responsibility for life and people will help young writers have energy and creativity to create quality works," he added.
VNA