Vietnamese children now can add to their book collections with the recent release of three renowned Japanese picture books, or Ehon books, in Vietnam.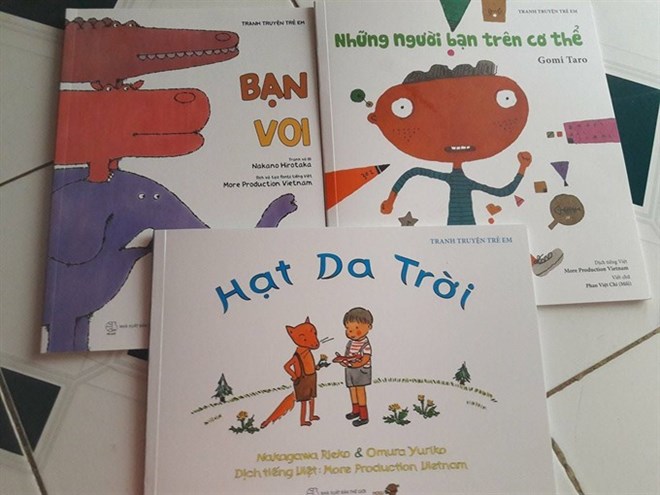 The three books are considered the most typical of Japanese Ehons
The three books, entitled Ban Voi Di Dao (The Wandering Elephant), Hat Da Troi (The Blue Seed) and Nhung Nguoi Ban Tren Co The (Friends on Body), are considered the most typical of Japanese Ehons. The first two, released in Japan in 1960, are still popular among Japanese children today, while the third was written by Gomi Taro, a renowned Japanese illustrator whose works have been translated into many languages around the world.
The books have received thorough investment so that the quality of the translation could be as close to the original as possible.
Also on the occasion, 1,000 books were donated to the Highland Students and Flowers on Stones Funds, which are dedicated to underprivileged children in remote mountainous areas in Vietnam.
The release of the books is the most recent activity within the framework of the Mogu Bookworm project, following the programme Doc Truyen Tranh Nhat Ban Cho Be (Reading Japanese Picture Books to Children), conducted by More Production Vietnam Co Ltd.
Launched in 2014, the programme has received support from the Japan Foundation and has been held regularly at the library of the Japan Foundation Centre.
The Mogu Bookworm Project was initiated after its representative, Le Thi Thu Hien, also Director of More Production Vietnam, had the chance to meet Japanese Empress Michiko and received her encouragement in February 2016.
According to Hien, the project aims to release and promote interesting Japanese picture books in Vietnam as well as support the creation of Vietnamese picture books.
Mogu Bookworm Project has also been supported by Japanese ambassador to Vietnam, Umeda Kunion and the consultation from Japanese Professor Tsuboi Yoshiharu from Waseda University.
Ehon or E-hon is a Japanese term for picture books featuring short illustrated stories for children under 10.
VNA